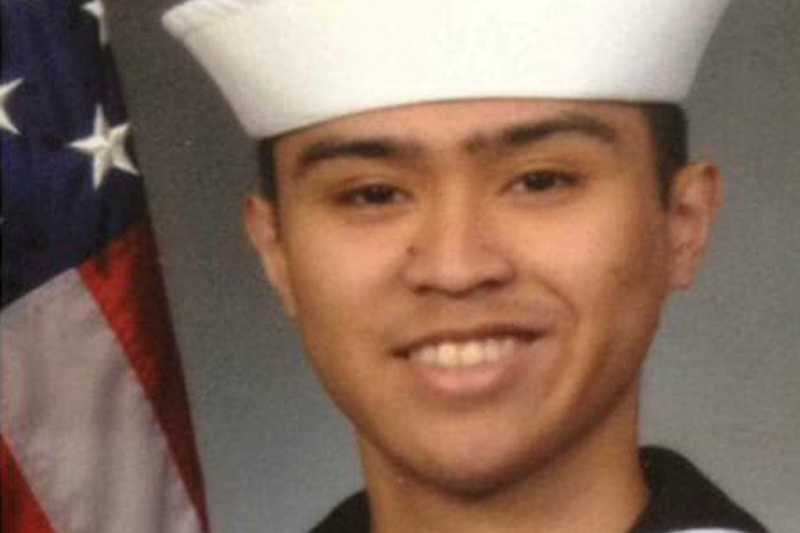 This undated photo released by the U.S. Navy, Monday, June 19, 2017, shows Fire Controlman 2nd Class Carlos Victor Ganzon Sibayan, 23, from Chula Vista, California. Sibayan is one of the seven sailors who died in a collision between the USS Fitzgerald and a container ship off Japan on Saturday, June 17, 2017. US Navy via AP
Fil-Am sailor killed in US destroyer collision
(philstar.com) - June 19, 2017 - 7:55am
MANILA, Philippines — A Filipino-American from Chula Vista, California was among seven sailors who died when a US destroyer collided with a Philippine-flagged vessel off Japan on Saturday.
The body of Fire Controlman 2nd Class Carlos Victor Ganzon Sibayan, 23, was recovered after a severely damaged USS Fitzgerald returned to a US Navy base in Yokosuka, Japan aided by tugboats.
The other victims were Seaman Dakota Kyle Rigsby, 19, from Palmyra, Virginia; Yeoman 3rd Class Shingo Alexander Douglass, 25, from San Diego, California; Sonar Technician 3rd Class Ngoc T Truong Huynh, 25, from Oakville, Connecticut; Gunner's Mate 2nd Class Noe Hernandez, 26, from Weslaco, Texas; Personnel Specialist 1st Class Xavier Alec Martin, 24, from Halethorpe, Maryland and Fire Controlman 1st Class Gary Leo Rehm Jr., 37, from Elyria, Ohio.
READ: Navy confirms 7 died in USS Fitzgerald collision off Japan
Acting Secretary of the US Navy Sean Stackley said the navy is deeply saddened and promised a full investigation into a collision between the destroyer and a container ship off Japan that killed seven sailors.
"We are all deeply saddened by the tragic loss of our fellow shipmates as a result of Friday's collision between USS Fitzgerald and a commercial container ship, and our thoughts and prayers are with their families," Stackley said in a statement.
Stackley also praised their colleagues for saving the USS Fitzgerald from further damage and bringing it back to port. The incident happened early Saturday morning as many of the crew slept.
"In due time, the United States Navy will fully investigate the cause of this tragedy and I ask all of you to keep the Fitzgerald families in your thoughts and prayers as we begin the task of answering the many questions before us," the US Navy secretary said.
The ACX, Crystal, a Philippine-flagged vessel, was being manned by 20 Filipino crew including the captain.
According to the Department of Foreign Affairs, the ship was slightly damaged from the incident but the Filipinos manning the vessel are all safe. — Patricia Lourdes Viray with Associated Press