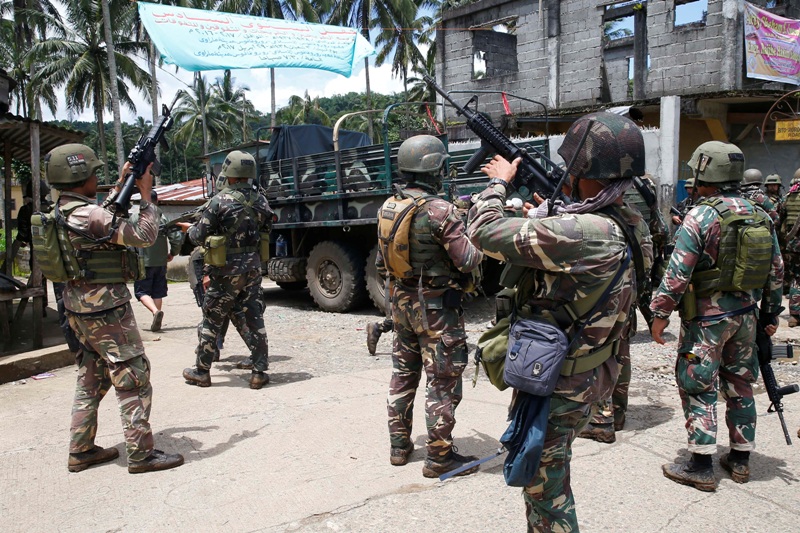 FILE - In this May 30, 2017, file photo, Philippines government troops prepare to head to the frontline as fighting with Muslim militants in Marawi city enters its second week in southern Philippines. The Philippine government said Sunday, June 18 that it would suspend offensives against communist guerrillas to reciprocate a similar plan by the insurgents and allow troops to focus on quelling a bloody siege by Islamic State group-aligned militants that has dragged on for nearly a month in the southern city. AP/Bullit Marquez, File
AFP: 11 kilos of shabu seized in Marawi
MANILA, Philippines — Government forces discovered 11 kilograms of high-grade methamphetamine or shabu during clearing operations in Marawi City.
According to the Armed Forces of the Philippines, the street value of the shabu seized in Marawi would be worth P100 million to P250 million.
"According to research, shabu prices ranges from P1,300 per gram wholesale up to P25,000 per gram on the streets. If the price will be pegged at mid-level range of P10,000 the amount of 11 kilograms is P110 million which put the estimated street value for high-grade shabu between P100 million to P250 million," AFP 1st Infantry Division spokesperson Lt. Col. Jo-ar Herrera said in a press briefing Monday.
Herrera noted that government troops had recovered numerous sachets of the illegal substance in fighting positions of the Maute and Abu Sayyaf terrorist groups since the first week of fighting in Marawi.
The recent recovery of is the largest amount of illegal drugs recovered in the Marawi siege, according to the Western Mindanao Command.
"This strengthens our findings that these terrorists are using illegal drugs," Herrera said.
Government forces on the ground said that the local terrorists that they were fighting used illegal drugs, according to the military.
"Troops in the frontline say that they are facing drug-crazed individuals who are evidently high on illegal drugs," Herrera said.
Aside from illegal drugs, government forces were also able to recover firearms in Marawi City last weekend.
"Last Saturday, our troops on ground zero were able to seize a sizable arms cache from the area of operation and the number of firearms numbering more than 20, if I recall, and these are not ordinary firearms but high-powered firearms," AFP spokesperson Brig. Gen. Restituto Padilla said in a press briefing at Malacañang.
On May 23, President Rodrigo Duterte declared martial and suspended the writ of habeas corpus in Mindanao following an armed confrontation between government troops and local terror groups.
The president earlier claimed that the ISIS-inspired groups used drug money to finance both past and present terrorism activities in the country.
READ: Duterte claims drug money funding terrorism in Mindanao