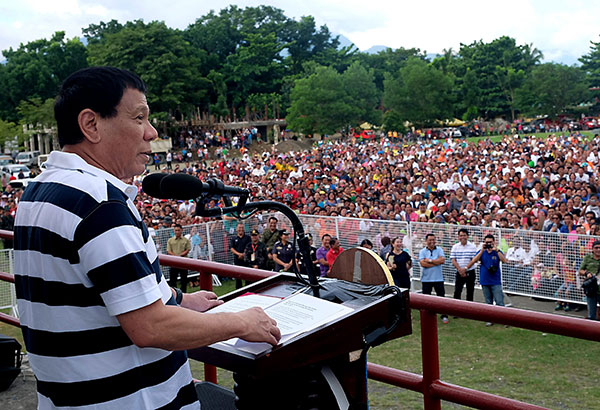 President Duterte speaks during the 50th founding anniversary celebration of the province of Agusan del Norte at the Caraga State University in Cabadbaran City yesterday.
Rody reappears: No illness, but claims he went on secret trip
MANILA, Philippines - Dispelling rumors about his health, President Duterte said yesterday he was not seen in public in the last five days because he went to Mindanao on a secret trip.
"I went on a trip somewhere. I cannot divulge it. I have to go there incognito. That's the truth," the President told reporters yesterday in Butuan City.
The trip, he said, lasted for two days.
"I traveled like a private citizen so I can go to that place," he added.
Duterte also confirmed that he spent a few days taking a rest and denied that he suffered from an illness.
"Sa kama lang naman ako, kayo naman (I was just in bed)…Coma? Kama (bed)," the President said. "Kung coma ako, di ako nandito para mamut**g i** (If I were in coma, I would not be here to curse)."
Officials said Duterte skipped the Independence Day rites in Manila last June 12 because he was not feeling well. They claimed that Duterte needed to rest because his schedule had been "brutal" since he declared martial law in Mindanao last May 23.
Duterte did not have any public engagement until last Friday, sparking speculations he was sick.
Asked about his state of health, Duterte said: "How do I do it? My last examination was last year. My state of health is what you see is what you get."
"You must learn from the Davao media. I'm like that. I don't need anybody to ask me where I'm going," he added.
Duterte said his health condition is "immaterial" because the Constitution has a mechanism for succession in the event that he can no longer perform his functions.
"We have (Leni) Robredo. We have the Vice President. If I do not come out in a month because I am in a coma and someone verifies you no longer have a president, it's time for change," he said.
"The only (time you will have a) problem is when there is no successor because there will be a struggle. If that's the case, there will be a vacuum in leadership, the military will always take over to control, put things in order and maybe set an election. But we have a Vice President. So what's the problem?"
Duterte also urged the public not to worry too much about him.
"To my countrymen, do not worry too much. Ayaw pa ninyo niyan isang taon lang bago na naman (Don't you want a new president after a year)? I'm good. I'm alive."
Duterte was his old self yesterday when he visited the troops of the 4th Infantry Division in Butuan City.
During the visit, he told soldiers that he loves them all and that he is ready to provide them everything they need to fulfill their mission.
Duterte also returned with his trademark curses, chiding the United States anew for supposedly imposing its views on Filipinos.
"These Americans approached me, they are crazy, those sons of b******, they cannot understand the problem," he said at the 50th anniversary of Agusan del Norte in University of Cabadbaran also yesterday.
"They want us to follow their style. My point is they should not underestimate the Filipino," he added.
Love for soldiers
In Butuan City, Duterte met with soldiers for the first time since his "private rest time" to assure them of his love "that is from the heart."
"I am filled with nice feeling. I love you all. Mahal ko kayong lahat. Nasasaktan ako tuwing may nadidisgrasya. Ang konswelo ninyo, hindi kayo madedehado," the President said in his "talk to men" remarks at the 401st Infantry Brigade headquarters in Barangay Bancasi.
The President emphasized to the men and women in uniform how much they mean to him. Duterte stressed he was not fooling the soldiers with his words.
"I talk from the heart and hindi ako bulador (I'm no flatterer) and when I say it, that is from the heart," the President said.
Duterte said death is every man's destiny as he talked about soldiers and police personnel who lost their lives in the battle against terrorism and criminality.
The President lamented the loss of lives on the government side in the campaign against the Maute militants in Marawi City.
The battle to retake Marawi City has claimed more than 200 lives, including 59 soldiers and policemen. It has also displaced thousands of residents.
He said he will do everything in his power to provide for the needs of the soldiers and that they should be war-grade materials and not the low quality that could not be used.
The President reiterated that he is putting up a P50-billion trust fund for the education of the children of uniformed personnel.
"Just be a clever soldier to survive so that you will have the time to see your grandchildren," the President added.
Duterte also said that he wants the wives of soldiers to avail themselves of the small and medium industries entrepreneur program of the Department of Trade and Industry.
The President left the Air Force Tactical Operations Group XI in Davao City on a helicopter at around 3:15 p.m. for Cabadbaran town in Agusan del Norte, where he attended the 50th anniversary celebration of the province before proceeding to Bancasi.
Earlier yesterday, Philippine National Police (PNP) chief Director General Ronald dela Rosa said Duterte's being rarely seen in public in the past days should not be a cause for alarm.
"He has no problem. Don't believe in some reports that he is sick," he said in an ambush interview at the Philippine National Police Academy (PNPA) in Cavite.
The national police chief said Duterte – as city mayor – used to make himself scarce whenever he felt he had to rest. – With Edith Regalado, Jose Rodel Clapano, Emmanuel Tupas, Jess Diaz