AFP: Some Maute members may have left Marawi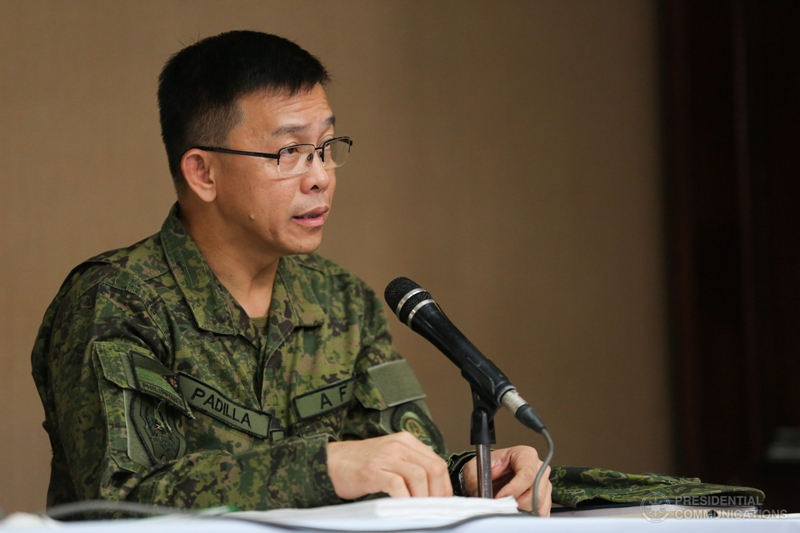 MANILA, Philippines - Some of the Islamist militants who stormed Marawi City last month may have mingled with evacuees and slipped away during the battle that has raged for nearly four weeks, the military said yesterday.
Armed Forces of the Philippines (AFP) spokesman Brig. Gen. Restituto Padilla stressed the number of Maute gunmen in Marawi has further dwindled and the group can no longer launch massive attacks.
"We do not deny that it is possible that some in Marawi escaped with evacuees to nearby areas like Iligan and Cagayan de Oro. It is possible that they did not undergo processes," Padilla said in a press briefing at Malacañang yesterday.
Padilla said security had been tightened in the cities of Iligan and Cagayan de Oro, where authorities are on the lookout for suspicious characters who might "attempt to sow some confusion or sow terror."
"Safe to say, I can tell you, they don't have the capacity to do what they did in Marawi anymore. Their capabilities have been significantly degraded, and they have specifically targeted Marawi to sow terror, wreak havoc, possibly kidnap people, destroy homes, schools, what have you. And that's exactly what they did. So any kind of action of that extent will not happen in Iligan and Cagayan de Oro," he said.
On Thursday, Iligan Vice Mayor Jemar Vera Cruz told radio station dzMM that a handful of Maute militants were able to enter his city by mixing with civilians. He said he was concerned that the terrorists may have weapons that are already embedded in the city.
Local officials in Maguindanao also claimed the extremist Bangsamoro Islamic Freedom Fighters (BIFF) tried to hoist the black flag of the Islamic State (IS) in several areas in the province as a show of support for their Maute comrades in Marawi.
Alerted by village officials, the military managed to drive off the rebels in their attempt to plant the IS flag in Barangay Pamalian in Shariff Saidona town on June 7.
Troops also prevented similar attempts by the BIFF to hoist the IS flag in Barangay Kuloy in Shariff Aguak, Barangay Malangog in Datu Saudi Ampatuan and in Barangay Meta in Datu Unsay town.
Police, on the other hand, discovered more than one kilo of shabu in the house of Maguing, Lanao del Sur Mayor Gambao Abinal in Marawi.
Policemen led by Senior Supt. Marlon Tayaba said they discovered the drugs buried in the backyard of the Abinal house in Barangay Raya Saduc during a clearing operation.
Abinal denied he owned the drugs, saying he has not visited his house even before the Marawi siege.
He said some Maute gunmen could have abandoned the drug stash during clashes with government troops in the city.
Disinformation campaign
Padilla said "heightened security measures" are now being employed in Iligan and Cagayan de Oro to monitor possible movements of suspicious persons.
He said claims that about 300 Maute militants have infiltrated Lanao del Norte may be part of a "disinformation campaign" by the terrorists when in fact, their capacity was severely reduced.
Padilla stressed there is no reason for residents of Iligan and Cagayan de Oro City to be alarmed as security forces are working closely with local governments to secure the area.
"As we have been reiterating so many times, the populace has to understand that providing security in every part of the Philippines is a shared responsibility among the populace, the military and the police and other security partners for that matter," he added.
He said the government is open to assistance from other countries but believes that its requirements are already adequately covered right now. – With John Unson, Jaime Laude, Roel Pareño, Gilbert Bayoran, Lino de la Cruz, Reuters