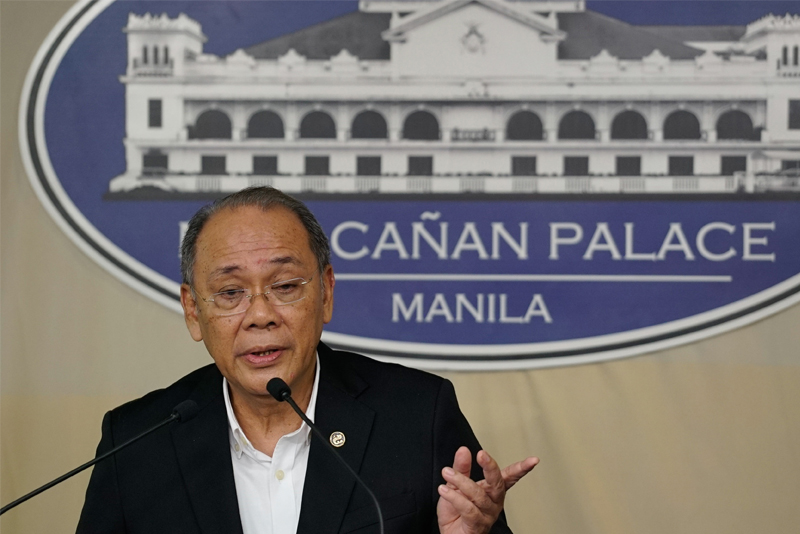 Presidential Spokesperson Ernesto Abella on Thursday told reporters covering the siege of Marawi City to take precautionary measures after an Australian journalist was wounded by a stray bullet. PCOO/Released
Abella to journalists covering Marawi: Stay out of trouble
MANILA, Philippines — Malacañang on Thursday told journalists covering the conflict in Marawi to take precautionary measures as they cover the continued clashes between Philippine security forces and Islamist militants in the city.
Abella's statement came after a journalist for the Australian Broadcasting Corporation (ABC) was hit by a stray bullet while he was covering the conflict in Marawi City which has already entered its fourth week.
In a series of social media posts, Adam Harvey, Southeast Asia correspondent for ABC, said that his injury was not life-threatening although the bullet was still lodged in his neck.
Abella, the presidential spokesperson, said that the media covering the siege of Marawi City should mind their safety in the performance of their duty, emphasizing that no story is more valuable than one's life.
"While I understand that you would not shirk your duty in the pursuit of any story, bear in mind that there's no story more valuable than one's life. Take the necessary precautions and stay safe while covering conflicts," he said.
Security forces in Marawi City continue to battle Islamist fighters still holding several villages in the town of around 200,000.
The firefight has forced most of inhabitants of the Islamic city to flee to safer grounds, prompting a serious humanitarian situation as the government tries to take care of its internally-displaced residents.
Although the military has control over most of the city, it says that 100 militants are still holed up in some of the town's areas, with Islamist snipers occupying strategic locations which has made it difficult for the security forces to rid the city of Maute fighters.
Abella told journalists covering the fighting in Marawi to "remain true" to their profession and to deliver "timely, accurate and relevant news to…people."
"After all, part of any journalist's sacred calling is to bear witness to the truth," he said.
Earlier on Thursday, he told journalists to be objective in their reporting of the events in Marawi and to avoid trouble.
"Stay out of trouble," he said in his regular media conference.