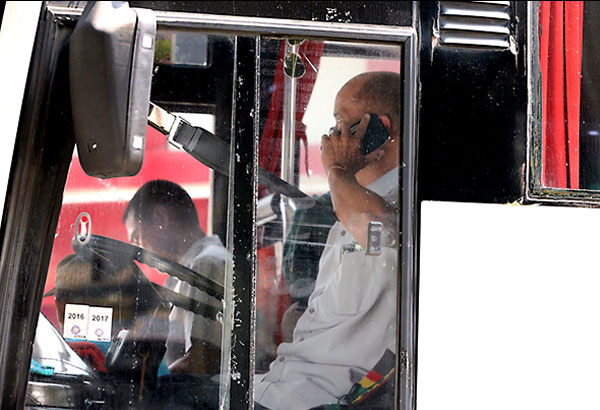 The revised IRR of Republic Act 10913 is set to be published this week and be fully implemented by the first week of July, officials from the Department of Transportation (DOTr) said yesterday. Boy Santos, File
Revised anti-distracted driving law takes effect next month
MANILA, Philippines - The Anti-Distracted Driving Act (ADDA) is set to be re-implemented early next month with clearer guidelines, weeks after the law was suspended to review its implementing rules and regulations (IRR).
The revised IRR of Republic Act 10913 is set to be published this week and be fully implemented by the first week of July, officials from the Department of Transportation (DOTr) said yesterday.
Lawmakers called for the suspension of the ADDA last month five days after its implementation following public confusion on the violations under the law.
Land Transportation Office (LTO) chief Edgar Galvante said the revised, and clearer, IRR will be effective immediately, 15 days after its publication today.
No more leeway would be given to motorists upon effectivity of the IRR, as the LTO has no authority to defer implementation of the law, Galvante said.
There were 246 motorists caught via non-contact apprehension of the Metropolitan Manila Development Authority in violation of the ADDA in the five days it was implemented from May 18-23.
Distracted driving under the law pertains to the use of any mobile communications device and electronic entertainment while a motor vehicle is in motion.
Motorists are prohibited from using devices to text message, make and receive calls, watch videos, surf the internet, read electronic books or make calculations while driving.
The law allows the hands free operation of the devices that include navigational aids like Waze applications.
The DOTr has also prescribed a four-inch "safe zone" for the placement of these devices for the use of navigational aid.
The safe zone limits the placement of gadgets from the edge of the dashboard to the edge of the device.
The law does not cover dashboard cameras, but motorists have been advised that these should be placed behind the rearview mirror for safety purposes.
Violators would be penalized with a fine of P5,000 for the first offense, P10,000 for the second offense, P15,000 and a three-month suspension of their driver's license for the third offense and revocation of their license as well as a fine of P20,000 for the succeeding offense.
DOTr officials clarified that other "distracting accessories" such as rosaries, trinkets and toys, as well as distracting activities like drinking coffee and putting on make-up, are not covered by the ADDA.