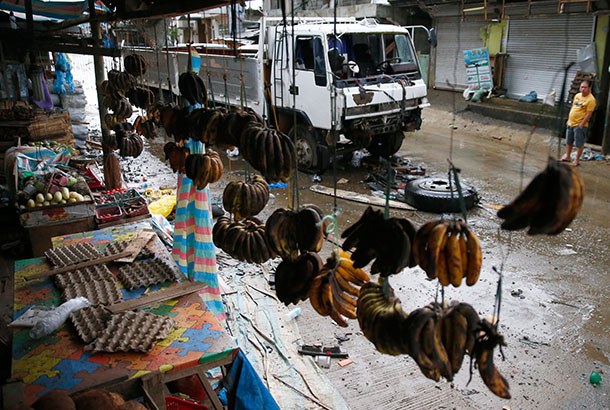 Rotten bananas still hang from a stall at a public market with a damaged cargo truck in the background following last week's siege by Muslim militants that resulted in the killings of its riders Tuesday, May 30, 2017 in Marawi city southern Philippines. Philippine forces pressed their offensive to drive out militants linked to the Islamic State group after days of fighting left corpses in the streets and hundreds of civilians begging for rescue from a besieged southern city of Marawi. AP Photo/Bullit Marquez
Palace confident tourism to recover once normalcy returns in Marawi
MANILA, Philippines — Malacañang expressed confidence that the country's tourism will recover once the security issues in Marawi City are addressed after some visitors canceled their trips to the Philippines because of martial law in Mindanao.
Presidential spokesman Ernesto Abella said the tourists' decision to rebook to other destinations is expected as foreign embassies issued travel warnings after martial law was declared in Mindanao last May 23.
"We understand the concern of foreign tourists. Safety is on top of their minds," Abella said.
"We remain optimistic that things would bounce back once the peace, order and normalcy have been restored in Marawi," he added.
Duterte placed the entire island of Mindanao
under martial law
after Maute terrorists raided Marawi City, torched several buildings and seized more than a dozen people including a Catholic priest.
On Sunday, Tourism Secretary Wanda Teo admitted that some foreigners have canceled their trips to Mindanao because of the martial law declaration.
She said while the tourists were spooked by the martial law, they are more scared of the threat posed by the extremist group Islamic State.
Security officials previously said the Maute terrorists have ties with the IS, which promotes violence against non-Muslims.
During the start of the Marawi crisis, Teo expressed optimism that the martial law in Mindanao would not have much impact on tourism.
"We will continue to promote the Philippines as a destination in spite of the martial law. I am confident tourists will still come to the country," she said in a press briefing in Moscow last May 25.
The tourism department seeks to attract eight million visitors this year.