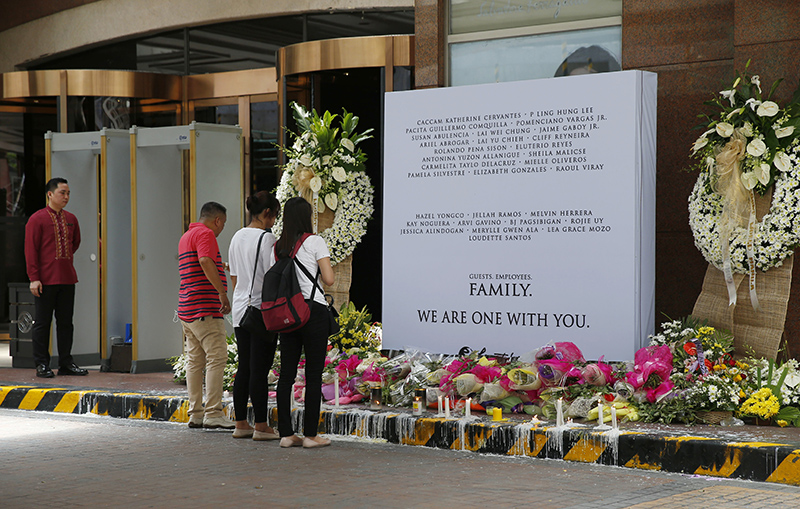 Employees of Resorts World Manila Casino and Shopping mall pray at he memorial for the victims of the deadly attack by a lone gunman Sunday, June 4, 2017 in suburban Pasay city, southeast of Manila, Philippines. The lone suspect behind the deadly attack in Manila was a heavily indebted Filipino gambling addict, police said Sunday, bolstering their claim the assault was not terrorism-related. AP/Bullit Marquez
Resorts World Manila set to reopen shopping section
(Philstar.com) - June 9, 2017 - 3:16am
MANILA, Philippines — Recovering from a deadly tragedy, the hotel-casino complex set on fire by an attacker last week will begin to open its retail section soon.
Stephen Reilly, chief operations officer of Resorts World Manila, said that while management has been eyeing to open the shopping area which had 114 outlets, the gaming area will remain closed.
"We're not intending to open the gaming facilities at this given time. It's insensitive to do so," Reilly said on ANC's "Headstart" on Friday.
"But for the retail component, people still love to come to Resorts World. Go to restaurants, go to the cinema, go and dine and shop. We'd be looking to open up the retail component by the end of this week," he added.
Reilly maintained, however, that the business keeps as its priority the victims and families of the fatal incident on June 2 when gunman Jessie Javier Carlos armed with a rifle entered its premises and set parts of the gaming area on fire.
Javier, the lone suspect behind the deadly attack, was a heavily indebted gambling addict, police said Sunday. Thirty-seven died due to suffocation while 78 others were injured. Outside the premises, people are still holding a vigil before a memorial set up for the victims of the assault.
Reilly said Resorts World Manila is wholly shouldering medical expenses of the victims, among whom were its own employees, giving out P1 million for each and setting aside funding for their dependents' education.
Financial matters 'irrelevant,' says exec
Asked how much the company is losing each day it remains closed, Reilly chose not to disclose and dismissed the concern as "irrelevant."
"What is important to me, to the company and to the executives is: let's work through this in the best interest of everybody, the victims, the families, the industry, and also how the Philippines is perceived," he said.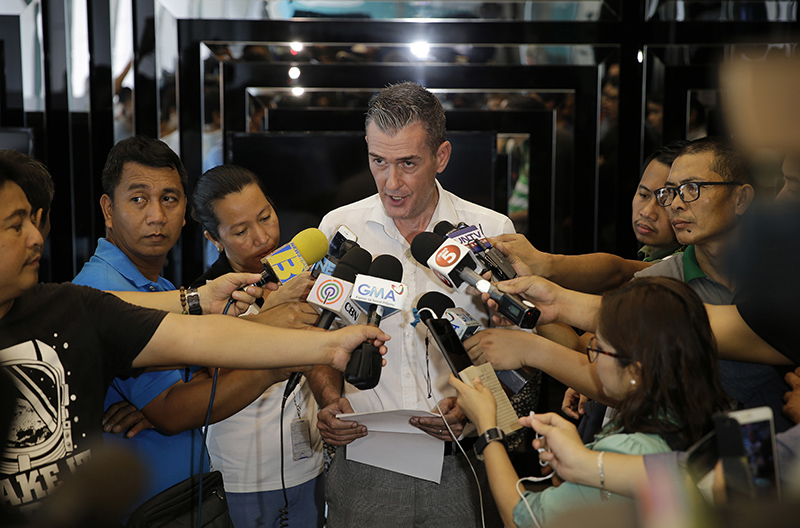 Stephen Reilly, Chief Operating Officer of Resorts World Manila speaks with reporters at the Resorts World Manila complex, Friday, June 2, 2017, in Manila, Philippines. AP/Aaron Favila
Still, the franchise of casino giant based in Pasay City is facing threat as it remains in hot water over possible security lapses that resulted in scores of casualties.
"I wouldn't like to comment that we would lose our franchise. We'll wait for the investigations to be concluded. That would also include PAGCOR. They are our governing body," Reilly said.
The executive, who has over a decade of experience in surveillance and security before helping set up Resorts World in the Philippines, also said experts and third parties are coming in to sort out the establishment's fault in the tragedy.
While insisting that the complex has followed international security standards, Reilly said it would not be foolproof.
"We're engaging experts from prior military field, intelligence field to totally review all areas of operation with regards to security protocols of Resorts World Manila," he said. — Camille Diola