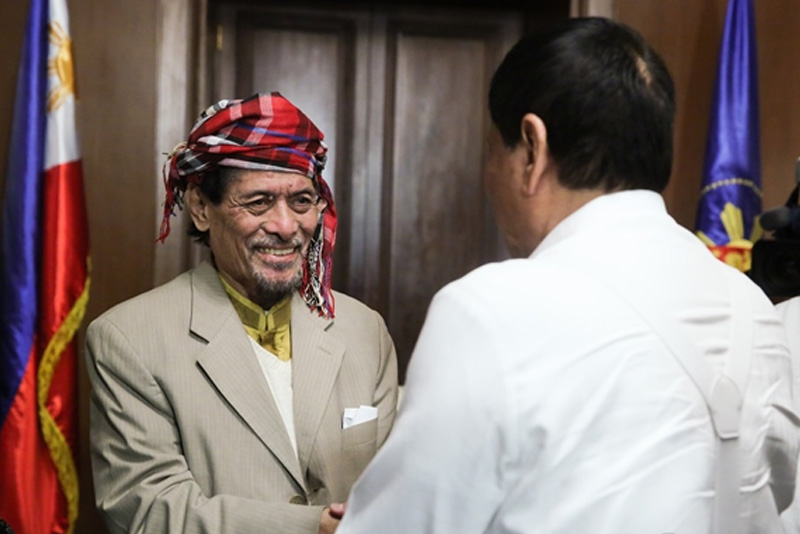 President Rodrigo Duterte said now is not the time to bring Misuari's MNLF faction into the fight against the Maute group. PPD/Albert Alcain, file
Duterte on Misuari offer of fighters for Marawi: Not now
MANILA, Philippines — The 2,000 combatants offered by Moro National Liberation Front founder Nur Misuari will not join the campaign against Maute terrorists in Marawi City, President Rodrigo Duterte said Wednesday.
Speaking to Army troopers in Tacurong City, Duterte said it would not be good to pit Moros against fellow Moros.
"Nur and I talked once… He offered to send 2,000 of his men. I said 'Wait, not now. Not now Nur,'" Duterte said.
"It's not good to be fighting if they do not realize what it's all about. A Moro against the Moro. Let us make them understand first what this is all about," he added.
Security forces have been fighting the Maute militants in Marawi City since May 23. The terrorists, who are said to have ties with the extremist Islamic State, had launched attacks in the city, prompting Duterte to declare martial law in Mindanao.
Duterte previously said he was ready to recruit MNLF members and other former rebels to the military if the clashes in Marawi City drag on.
"I am announcing to all forces of the MI, MN, if this conflict will take long and if you want to join, cast your lot with the Republic… I will take you in as soldiers, same privileges, and I will build houses for you in some areas," Duterte said while visiting soldiers in Jolo on May 27.
"I will accept Nur's offer," he also said.
The announcement worried the Zamboanga City government, which has charged Misuari and around 300 of his followers over the 2013 siege of the city. The siege is believed to have been a bid to preempt the signing of a peace agreement between the government and the Moro Islamic Liberation Front, a breakaway group from the Misuari-founded MNLF.
The military has said there is no existing protocol that would allow the MNLF combatants to fight alongside government forces.
"Mechanisms for any kind of this arrangement need to be discussed thoroughly prior to its implementation. So right now, we don't have the appropriate protocols," Brig. Gen. Restituto Padilla, Armed Forces spokesman, told reporters last Monday.
"We don't have the appropriate coordinative elements on the ground to make this happen. So this may come later, after the resolution of the Marawi incident but not during this time. We have not sat down to discuss how it will be implemented," he added.