Duterte to Maute: No talks even if you kill hostages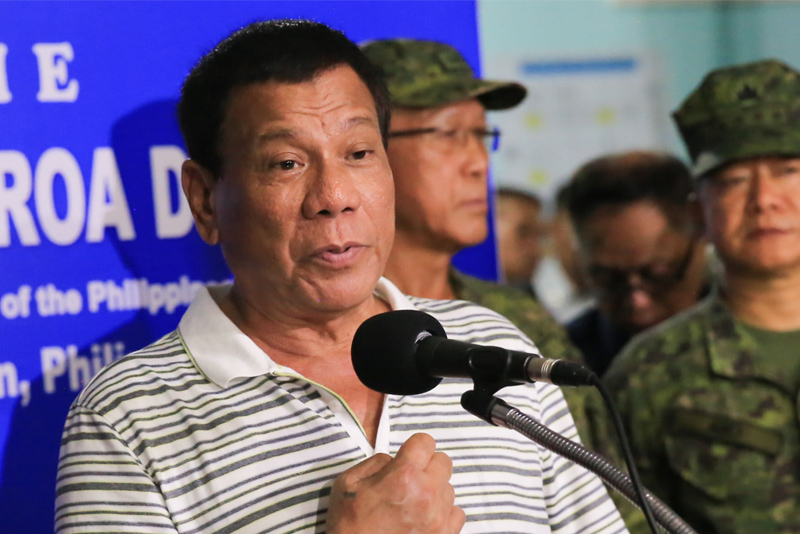 MANILA, Philippines — President Rodrigo Duterte said Sunday that he will not negotiate with militants aligned with the Islamic State group who are holding hostages in a besieged southern city, and that he has ordered troops to kill the gunmen even if they slaughter the hostages.
The tough-talking Duterte issued his strongest warning yet to the local and foreign militants, whose stunning siege of Marawi has dragged on for nearly two weeks. Troops have battled to regain control of most of the lakeside city, but the militants, who are believed to be holding a Catholic priest and many other hostages, continue to control pockets of territory.
At least 178 people have been killed in Marawi, the heartland of Islamic faith in the southern Philippines, since hundreds of gunmen waving Islamic State-style black flags rampaged across the city on May 23, burning some buildings and occupying others as they battled troops backed by airstrikes and artillery fire.
The dead include 120 militants, 20 civilians and 38 soldiers and policemen.
"I was asked if I could negotiate. I'm telling you now, you can kill all those you're holding now, but I won't talk to you," Duterte said in a speech before peace talks advocates at an air base in the central city of Lapu-Lapu. "My order really is to shoot you and to shoot you dead."
While he sounded tough, Duterte said troops have held back from indiscriminately bombing away at the militants with newly acquired fighter jets and ending the urban insurrection in a day because the government has to assure the safety of civilians trapped in the fighting.
Nearly 1,500 residents have been rescued from neighborhoods at the scenes of clashes, including 179 people who were plucked from danger after troops held their fire for four hours Sunday in a "humanitarian pause" to allow the rescue in specific areas, military spokesman Brig. Restituto Padilla said.
Marawi officials estimate that about 2,000 residents remained trapped in their houses and many have run out of food and water.
Officials say they have no idea how many civilians are being held hostage by the gunmen, but a Catholic priest, the Rev. Teresito Suganob, said in a video that he and about 200 other captives, including children, were being held by the militants. Suganob apparently spoke under duress in the video, which recently appeared online.
The Marawi siege followed an unsuccessful May 23 army raid that attempted to capture a top terror suspect, Isnilon Hapilon, who has been designated by the Islamic State group as its leader in Southeast Asia.
Hapilon, who was wounded in an airstrike in a nearby town in January, was reportedly wounded anew in the foot by gunfire but escaped. Gunmen loyal to him swept through the city of 200,000 people, torching buildings and taking hostages. Up to 90 percent of Marawi's people have fled to safety.
Duterte has declared martial law across the southern third of the Philippines to deal with the most serious crisis of his year-old presidency.