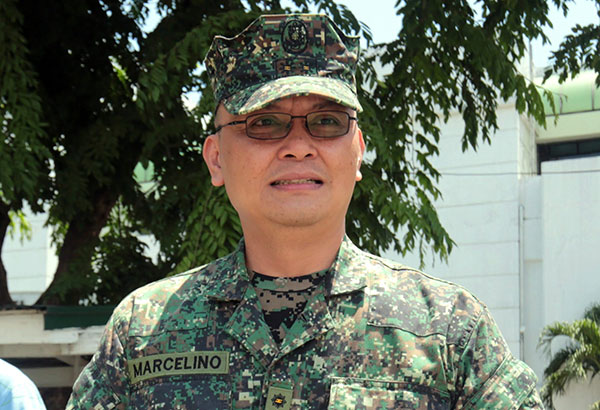 Marine Lt. Col. Ferdinand Marcelino and Chinese Yan Yi Shou leave Camp Aguinaldo in Quezon City yesterday. MICHAEL VARCAS
Marcelino freed, vows to testify vs Leila
Jaime Laude
(The Philippine Star) - May 19, 2017 - 4:00pm
MANILA, Philippines - A day after he was ordered released, Marine Col. Ferdinand Marcelino declared he is ready to testify against detained Sen. Leila de Lima and other key personalities involved in illegal drugs.
Dressed in full Marine uniform, Marcelino stressed in a news conference at Camp Aguinaldo that he was sacrificed by his superiors who reaped the fruits of their success in the war against drugs.
"I will only tell the truth," Marcelino said when asked if he would appear as a witness against De Lima.
Chinese Yan Yi Shou joined Marcelino in the press conference, slamming the police and the Philippine Drug Enforcement Agency (PDEA) for blowing his cover.
Yan said he was a government informant when he was arrested with Marcelino during a covert mission.
Marcelino virtually confirmed the statements of his lawyer Chief Public Attorney Persida Rueda-Acosta who earlier revealed that he is willing to testify against detained De Lima on her alleged involvement in the illegal drug trade.
De Lima was detained on charges of drug trafficking for her alleged involvement in the illegal operations of convicted drug distributors at the National Bilibid Prisons.
For her part, De Lima said Marcelino was most likely subjected to overwhelming pressure by the administration to implicate her in the illegal drug trade.
"By now, I am so used to this regime's habit of blaming the whole illegal drug industry on me as the supposed number one drug lord, while it continues to have nothing to show for its drug war in terms of cutting off the source from China and prosecuting the real Chinese drug lords," De Lima said in a handwritten statement.
Dangerous precedent
The Philippine National Police-Drug Enforcement Group (PNP-DEG) said the dropping of charges against Marcelino and Yan set a "dangerous precedent."
"The PNP-DEG is wary that the decision lays a dangerous precedent being conducted by law enforcement agencies," DEG spokesman Supt. Enrico Rigor said. – With Evelyn Macairan, Emmanuel Tupas, Marvin Sy, Paolo Romero