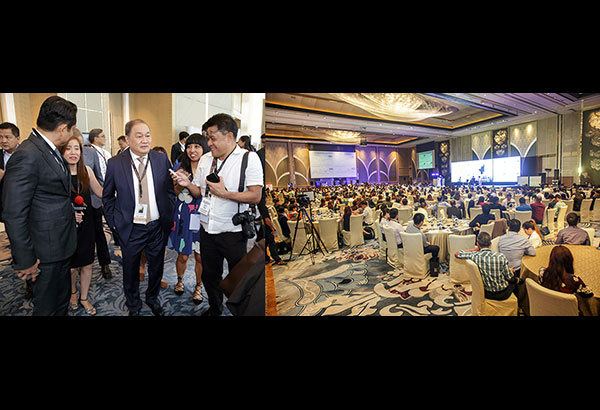 Metro Pacific Investments Corp. chairman Manuel V. Pangilinan (left) is interviewed by reporters during the BusinessWorld Economic Forum at Shangri-La at the Fort in Taguig City yesterday. With the theme 'Fueling Philippine Economic Expansion Beyond 2017: The Engines of Growth,' the forum (right photo) provided a live platform for industry leaders and key figures in society to discuss and solve key issues and challenges affecting the country. GEREMY PINTOLO
Infra, tax reform crucial to 'Dutertenomics'
MANILA, Philippines - Economic managers are bent on having the Comprehensive Tax Reform Program (CTRP) – composed of four packages – raise enough revenues to bankroll the government's ambitious plan to modernize the country's infrastructure backbone.
The House of Representatives is set to start plenary discussions next week on the substitute tax reform bill, which is aimed at lowering personal income tax rates while broadening the tax base through reform in consumption-related taxes such as value added tax (VAT) and excise taxes on automobiles, fuel and sugar-sweetened beverages.
The bill also contains the first package of the CTRP.
"Dutertenomics is going to be boosted by massive infrastructure spending and tax reform… Tax reform is going to be critical to our infrastructure program and Dutertenomics in general," said Pernia in a presentation during the BusinessWorld Economic Forum held in Taguig City yesterday.
He described the Duterte administration's economic growth strategy as one founded on a long-term vision that must be sustained across four administrations with accompanying medium-term development plans and concrete measures "backed by political will."
"The hallmark of Dutertenomics is regional and rural development that will reduce inequality and poverty across regions and households. Dutertenomics is also about infrastructure projects that will be processed swiftly, implemented on schedule and delivered without corruption," he said.
The government wants to execute a robust pipeline of public works at an unprecedented speed as it plans to spend P8.4 trillion over the next five years to put up vital infrastructure to cope with the country's economic growth.
For the country's economic managers, the fastest way to do this is to shift the funding of big-ticket projects to official development assistance (ODA) loans and auction the operations and maintenance (O&M) under the public-private partnership (PPP) scheme.
"Spending from government appropriations act (GAA) is faster than through PPP. It takes 29 months to get a PPP project going," said Pernia in a separate interview. – With Paolo Romero