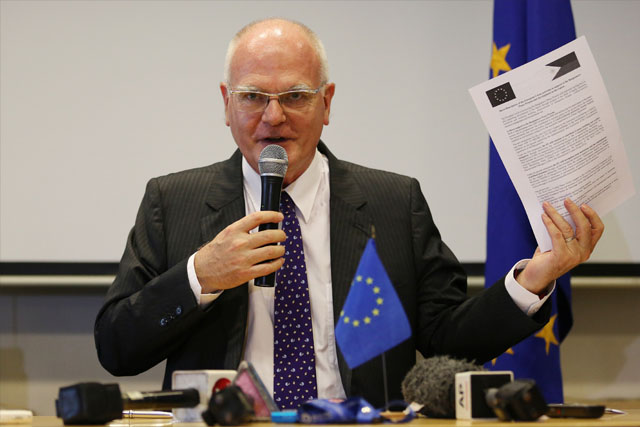 EU Ambassador Franz Jessen gave the assurance on Facebook in response to the Philippine government's declaration that it would stop accepting aid from the EU. More than 250 million euros or roughly $278.7 million in funds for development projects in the country, especially in Mindanao, might be withheld as a result. File
EU envoy says work in Philippines to continue
(The Philippine Star) - May 19, 2017 - 4:00pm
MANILA, Philippines - Despite its offer of development aid being spurned by the Duterte administration, the European Union (EU) is making it clear its "work continues" because "the need is there."
EU Ambassador Franz Jessen gave the assurance on Facebook in response to the Philippine government's declaration that it would stop accepting aid from the EU. More than 250 million euros or roughly $278.7 million in funds for development projects in the country, especially in Mindanao, might be withheld as a result.
"For the time being, we are continuing our work, including the preparation of new programs," Jessen said.
"Across the world the EU development agenda is fully transparent. We work hand in hand with different governments; agreements are signed and respected by both sides," he pointed out.
"Principal issues are usually discussed by experts in a working group on development cooperation. In the Philippines, this group was supposed to meet this week, but unfortunately the meeting was postponed. I am sure that when the next meeting takes place outstanding issues will be clarified easily," he maintained.
Jessen said his having worked in China, Vietnam and now the Philippines has made him "quite familiar with various aspects of our assistance." He said the EU still has an ongoing development cooperation with China, including the "Integrated Environmental Program" for Liaoning which was governed at the time by Li Keqiang, now China's prime minister.
"It was interesting for me to meet him again many years later and to hear him talk about our past support, which had helped the province to overcome a number of environmental challenges," Jessen said, referring to Li.
"In Vietnam where I served earlier, our development cooperation had the same focus on the health sector as we do currently here in the Philippines. Some of my most gratifying field visits in Vietnam were to the rural health stations that received the EU's support in helping the government to provide basic health care to people who otherwise would not receive needed care," the EU envoy also revealed.
In the Philippines, he said the Department of Health is interested in increasing and expanding EU support for mobile dental and health stations.
"Concrete and tangible outcomes of our development cooperation, such as emergency shelters in Samar or maternal care for indigenous people, are of course easy to appreciate, and give a clear visibility of what the grants are used for," he also said.
Concern
European businessmen in Manila, meanwhile, have expressed concern over the rejection of EU aid.
"While usually grants are not affecting businesses, it must be said that they do greatly contribute to creating desirable conditions for businesses to thrive and spur inclusive growth as it creates much needed jobs – and grants come free of charge and conditions," European Chamber of Commerce of the Philippines (ECCP) president Guenter Taus said.
"As far as the business community is concerned, it has been pointed out by most (if not all) business sectors that peace and order is an essential and integral part of doing business and attracting investments, no matter where these come from. Hence grants help to expedite this very cause," Taus added.
He stressed EU grants are usually granted without conditions.
For the Philippines, he said most of the grants were earmarked for Mindanao, particularly for the peace process and green power solutions.
Sharing ECCP's views is Nordic Chamber of Commerce of the Philippines (NordCham) president Bo Lundqvist.
"Perhaps there may be some confusion/mix ups here with the GSP+ and/or free trade agreement (FTA) schemes. Both do usually come with clear guidelines and conditions attached, which are always mutually agreed upon and accepted upon signing of these treaties," Taus said.
"In this particular case, GSP+, an agreement that covers 6,300 items for tax and duty free import into all EU countries, did have some mutually agreed upon conditions attached to it, while for the FTA it is premature to speculate as it is an agreement still under negotiation," he pointed out.
"In the absence of fully understanding the underlying reasons for the refusal, it has to be said that the grant is really designated to further improvements nationwide and to help alleviate poverty as well as establishing peace and order," he added.
Local business leaders had said the government's decision to stop receiving new grants from the EU would not pose a big loss to the country as there were many other countries ready to give aid and grants.