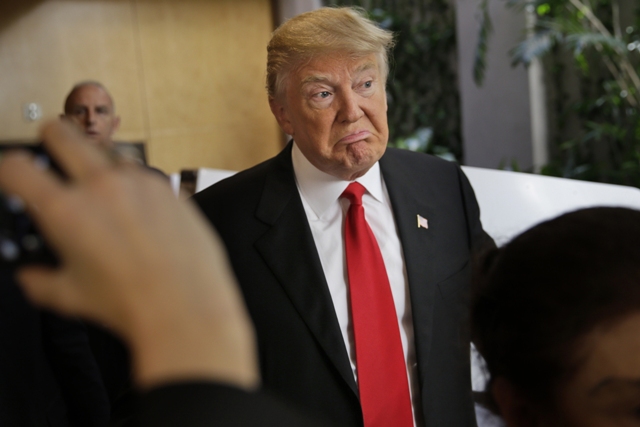 US President Donald Trump has indicated that he is coming to the Philippines for the Association of Southeast Asian Nations (ASEAN) meetings in November. AP/Seth Wenig, File
ASEAN perception of US drops after Trump backed Duterte's drug war
MANILA, Philippines (Updated 4:22 p.m.) — The transfer of executive power from US President Barack Obama to Donald Trump seems to have left an "indelible impact" on the country's global image, according to a survey.
In a survey by the Singapore-based ISEAS-Yusof Ishak Institute, the perception of Southeast Asians on Washington's image has deteriorated in four months.
About 64.3 percent of the respondents said that the US cannot be relied on to uphold free trade, human rights and international law in the region.
This follows the Trump's declaration of support for President Rodrigo Duterte's war on drugs, which involved thousands of extrajudicial killings.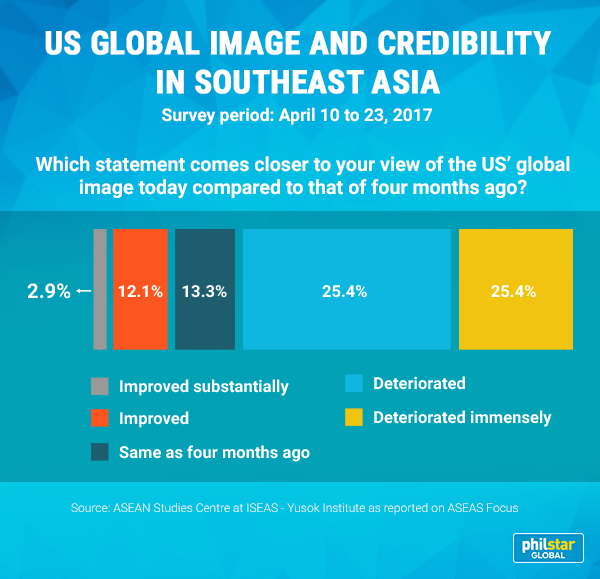 The expression of support from Trump "no doubt played a role in nudging US' trustworthiness downward," the report said.
The US' withdrawal from the Trans Pacific Partnership agreement also contributed to the drop of Washington's popularity among Southeast Asians.
The survey conducted from April 10 to 23 showed that 71.7 percent of the respondents said that their views on the US global image has either deteriorated (46.3 percent) or deteriorated immensely (25.4 percent).
"The US' reliability as an ally/partner has also decreased in the eyes of Southeast Asians," the report read.
About 54.3 percent of the respondents consider the US less dependable than four months ago while 16.2 percent still have confidence in its credibility.
Using the purposive sampling method, the survey drew its results from 318 respondents from governments, business, academia, think tanks, the media and civil society across ten ASEAN member states. The independent think tank, through its bimonthly publication "ASEAN Focus," indicated that its findings do not reflect the views of the whole Southeast Asia.
US role in South China Sea expected
Despite the drop of US global image, Southeast Asians still have high expectations that Washington will continue upholding the freedom of navigation in the South China Sea.
The survey showed that that 67 percent of Southeast Asians believe that the US could find some measures of redemption in the disputed South China Sea.
RELATED: Duterte among 'strongman' leaders Trump has praised
"In this respect, the respondents may be reading the early signs from Secretary of State Rex Tillerson's strong rhetoric on this issue during his confirmation hearing in January, as well as the deployment of the USS Carl Vinson carrier strike group in the South China Sea in February," the report read. — Infographic by RP Ocampo