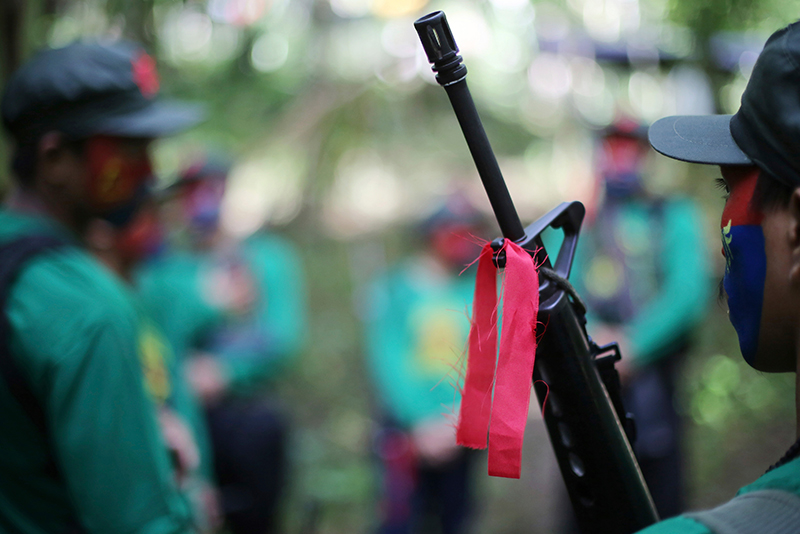 Rebels belonging to the Front Committee 14 of the New People's Army (NPA) on Saturday morning kidnapped the son of a former Agusan del Sur town mayor even as President Duterte announced the release of 14 convicted communists. AP/Aaron Favila, File
NPA rebels kidnap ex-Agusan mayor's son
Ben Serrano
(The Philippine Star) - May 14, 2017 - 4:00pm
BUTUAN CITY, Philippines — Rebels belonging to the Front Committee 14 of the New People's Army (NPA) on Saturday morning kidnapped the son of a former Agusan del Sur town mayor even as President Duterte announced the release of 14 convicted communists.
Businessman Carzon Ceasar Lademora was kidnapped in Sitio Anoling, Barangay Bayugan 3 in Rosario town, Agusan del Sur, according to a press statement sent yesterday by Army Capt. Jasper Gacayan.
"Sources revealed NPA rebels were demanding ransom money from the family in exchange for the release of the victim, who is suffering from hypertension," the statement said.
The victim, it added, was said to be the son of former San Francisco mayor Carl Lademora.
Prior to the kidnapping, the armed NPA rebels led by a certain Ka Monik ransacked the mining tunnel financed by Lademora.
Pursuit operations by joint military and police operations are now being conducted.
'President for peace'
In Hong Kong last Saturday, Duterte told about a thousand Filipinos about the release of the 14 prisoners from New Bilibid Prison, as he renewed his commitment to forge a peace settlement with the leftist rebels.
"They are communists who have been convicted," the President said.
Duterte acknowledged that the government and the communist rebels have had disagreements sometimes due to "irritation and exchange of words," but said he is "a President for peace."
"I cannot be a wartime President. I cannot afford to fight with anybody especially to wage war against my people," he added, although he did not elaborate on the freed rebels.
Duterte is optimistic that the government and the communists will be able to iron out their differences.
"We're talking to the NPA. Medyo matigas lang nga (They can be a bit stubborn), but it's not really again something which is insurmountable. In fact, I have opened the gates of the government to the Left," he said.
Duterte cited his appointment of personalities associated with the Left, namely Agrarian Reform Secretary Rafael Mariano, Social Welfare Secretary Judy Taguiwalo and National Anti-Poverty Commission chief Liza Maza.
Army denounces kidnapping
Meanwhile, the Philippine Army yesterday denounced how alleged NPA members are now resorting to kidnap-for-ransom activities in the provinces.
The Army said businessmen in San Francisco and nearby towns are worried of the effects of the NPA kidnapping to their booming economy brought by the prevailing peace and order situation in the town until the kidnapping incident.
"This is a clear evidence that people, especially those who own businesses in the area, no longer support these bandits," 4th Infantry Division commander Maj. Gen. Benjamin Madrigal Jr. said, noting that the NPA has resorted to committing crimes such as Saturday's kidnapping.
"We urge everyone to join the government forces in getting rid of this menace to peace and development," Madrigal appealed.
Kalinga clash
As this developed, an unidentified NPA guerrilla was killed while an Army soldier was wounded during an encounter Saturday afternoon in Sitio Ibong, Barangay Balbalasang, Balbalan, Kalinga.
Troopers of the 50th Army Battalion were conducting Security Patrol in the area when they encountered an undetermined number of guerrillas around 1:30 p.m. A 30-minute firefight ensued, according to Isabela-based 5th Infantry Division (ID) commander Maj. Gen. Paul Atal.
Recovered from the slain rebel were an M16 assault rifle with serial number 4364032, two short M16 short magazines and 46 M16 bullets, said 5th ID public affairs chief Army Capt. Jefferson Somera.
Private First Class Ruben Managuelod, the wounded soldier flown by helicopter to Camp Melchor de la Cruz Hospital in Gamu, Isabela for treatment, is now in stable condition, according to Somera.
Zambo encounter
In Zamboanga Sibugay, two NPA rebels were killed in an encounter with the 44th battalion of the 102 Infantry Brigade under the 1st Infantry (Tabak) Division last Friday.
While conducting operations in the area, the Army troops encountered about 30 armed NPA rebels under the Section Committee (SECOM) Feliciano Bravo of the Western Mindanao Regional Party Committee. — With Michael Punongbayan, Artemio Dumlao, Raymund Catindig, Rudy Santos