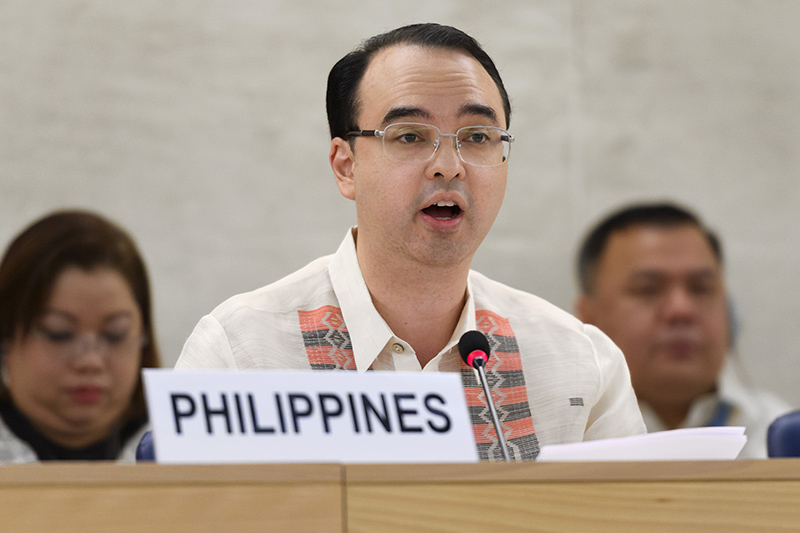 Sen. Alan Peter Cayetano speaks during the universal periodic review of the Philippines by the Office of the United Nations High Commissioner for Human Rights (OHCHR) on May 8, 2017 at the UN offices in Geneva. AFP/Fabrice Coffrini
Philippines uses 'alternative facts' to defend drug war, says watchdog
MANILA, Philippines —The Philippine government shifted in strategy to blunt criticism of its brutal campaign against illegal drugs, from reliance on high-profile "apologists" to the use of "alternative facts," according to a human rights watchdog, as it predicted that global calls for accountability would continue to snowball.
"The Philippine government of President Rodrigo Duterte has a new tactic to deflect mounting foreign criticism of its murderous "war on drugs" that has killed thousands: simply deny those deaths are anything out of the ordinary," said Phelim Kine, deputy director of the Asia division of Human Rights Watch.
Rose Trajano, secretary general of the Philippine Alliance of Human Rights Advocates, shared Kine's views and said that the Philippine delegation was obviously on the defensive by blaming the Commission on Human Rights (CHR) and the media for spreading false information on the government's efforts to eradicate illegal narcotics.
She said that during the presentation, the government delegation tried to rationalize and justify the killings by blaming others which were just reporting on what was happening.
"Yun lang naman ang ginagawa nila kaya very defensive actually ang stand nila. But at the same time they want to rationalize and justify kaya nga it's unfortunate that the CHR has been blamed and even the media, hindi ba? At tsaka ang mga fake news. So parang tayo pa ngayon ang mali," Trajano said.
On Monday, a Philippine delegation led by Sen. Alan Peter Cayetano, who was appointed on Wednesday by Duterte as the new foreign affairs secretary, went to Geneva, Switzerland for the United Nations Universal Periodic Review of the Philippine human rights record.
During his presentation, Cayetano, the defeated running mate of Duterte in last year's national election, denied that there was a state policy to kill drug offenders and other suspected criminals.
Cayetano also claimed that the high number of deaths during the first 10 months of the Duterte administration was because of the different definition of extrajudicial killings used by his critics, saying that this included murder and homicide cases that led to higher numbers.
He said that the high death toll linked to the drug war was an "alternative fact" and blamed the media for peddling this to the international community.
However, since Duterte assumed the presidency in June last year, the number of killings of suspected drug users and dealers exponentially rose, a fact dismissed by Cayetano as "political tactic," according to Kine.
The incoming foreign affairs chief also presented past pronouncements of Duterte vowing to protect human rights although he conveniently ignored the more numerous statements of the president promising death for suspected drug suspects and criminals.
High-profile apologists
The deputy director of HRW Asia said that the shift in strategy was spawned by the Philippine government's recognition that its reliance on high-profile "apologists" had failed as these had not dissuaded critics from calling for a UN-led independent investigation.
The use of prominent personalities to defend the drug war also did not deter the Office of the Prosecutor of the International Criminal Court (ICC) from warning senior Philippine government officials of possible prosecution if they were found to have incited or engaged in acts of mass violence, Kine said.
"The Philippine government's new strategy of denial suggests a recognition its previous reliance on high-profile official apologists to deflect public criticism wasn't working. Those apologists, including Philippine National Police Director-General Ronald Dela Rosa and Justice Secretary Vitaliano Aguirre II, have publicly acknowledged the bloodshed but sought to justify it as an unavoidable cost of the drug war," Kine said.
Kine described Cayetano's performance in Geneva as "a master-class in innovative defense of the indefensible."
Kine said that Cayetano's defense in Geneva would not negate the data showing that the government's drug war had killed more than 7,000 people, mostly urban poor, since July.
HRW Asia's deputy director also noted that despite the vigorous defense of the Philippine senator a number UN member-countries such as Germany, Japan, Chile, Ghana and Canada had called on the government to stop the killings and hold those responsible accountable.
"China was one of the few countries that provided Cayetano a sympathetic ear, praising the Philippine government for what it described as its "remarkable achievements" in protecting human rights," Kine said.