Confusion mars filing of impeach raps vs Leni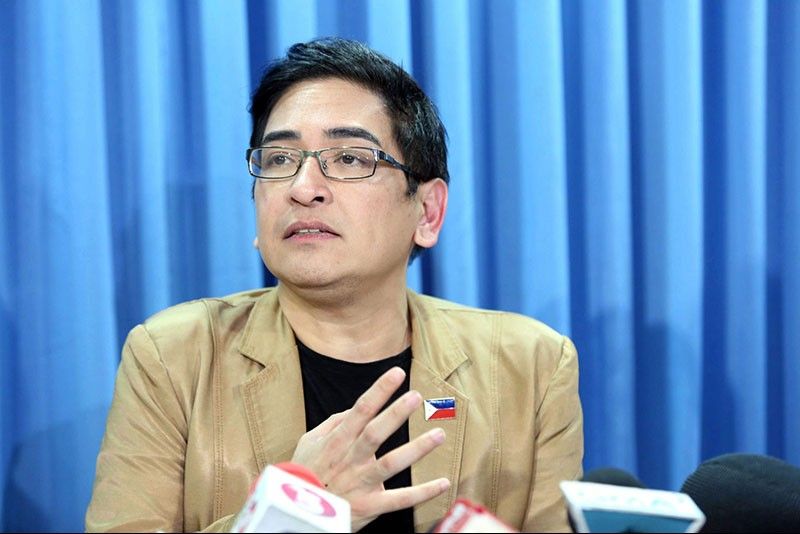 MANILA, Philippines - Local and foreign journalists waited for several hours yesterday for the filing of an impeachment complaint against Vice President Leni Robredo at the House of Representatives, but no complaint was filed.
The supposed complainant, lawyer Bruce Rivera, was forced to face reporters and hold an impromptu press conference, during which he only gave open-ended answers to repeated queries on whether an impeachment complaint would be filed and if he got an endorser.
"I don't want to preempt anything. We would not want to ruffle the feathers of some (lawmakers) here. We don't want to step on anybody's toes," he said, assuring the public that they have the "numbers" but refused to divulge the figure, much less the endorser.
Technically, there is no impeachment complaint filed against Robredo yet since the one submitted by Marcos loyalist lawyer Oliver Lozano and broadcaster Mel Chavez carried no endorsement from any House member, which is mandatory.
But Lozano, who filed an amended impeachment complaint on March 27, expects Speaker Pantaleon Alvarez to endorse the new petition, saying the amendment tackled the legality of a premature oath taking on June 30, 2016.
"Under the Constitution, the President and Vice President should take their oath at noon of June 30. Robredo took her oath at 9 a.m. while President Duterte patiently waited for the watch to tick at 12 noon before officially taking his oath. This is the first time that the second highest official of the country disregarded the Constitution," Lozano said.
The premature oath taking, he added, is a clear defiance of the constitutional provision religiously followed by elected past presidents and vice presidents, and it voided Robredo's oath of office as provided by the Civil Code of the Philippines.
Rivera earlier said his impeachment petition would cite as basis the video message sent by Robredo to a UN side event, wherein she talked about policemen using the "palit ulo" scheme and warrantless arrests to push President Duterte's war on drugs.
Malacañang urged the public to respect the filing of petitions even if Duterte earlier called on his allies to stop pursuing the impeachment of Robredo as this might only divide the country.
"Let them be. It's a democratic country. Let's just let the process go… and those who are pursuing the case, just let them do that," said presidential spokesman Ernesto Abella in a press briefing yesterday.
Robredo is unperturbed by the complaints as her legal adviser Barry Gutierrez dismissed these as lacking legal basis.
"We were no longer surprised because we're expecting them to file the impeachment complaint," said Gutierrez, who described Lozano's petition as mere character assassination and harassment.
The Vice President, he added, remains focused on her job and is ready to face an impeachment should it be allowed to proceed.
"But any attempt to file an impeachment complaint against VP Leni will be opposed vigorously by all (Liberal Party) members," he said.
Rivera, who belongs to the "Impeach Leni" movement, refused to divulge the identity of the lawmaker who will endorse the complaint.
"But, yes he's a male congressman. We left everything (documents) to his office," he related, adding they – as complainants – will eventually be called upon by House secretary-general Cesar Pareja to swear on the complaint.
He also refused to answer questions on the Speaker's previously gung ho position to seek Robredo's immediate ouster amid categorical calls by President Duterte for his allies in Congress to lay off on the former housing secretary.
"I don't want to either confirm or deny. I don't even want to feel confident (about the chances of Leni being impeached) dahil nga bilog ang mundo (because the world is round)," Rivera said.
All they want, he added, is for "the whole world to see that democracy is working here."
"We stated everything as a matter of fact. And everything has been chronologically arranged."
He revealed that the impeachment of Robredo has been the constant call of about 10 million overseas Filipino workers who voted for the former Davao City mayor and now vowed to "support the impeachment" of the Vice President.
The awaited complaint filing drew varied reactions from congressmen, with PBA party-list Rep. Jericho Jonas Nograles, who was rumored to be among the endorsers, denying any involvement.
"It's not true. I'm actually shocked that my name is being dragged into this but I have nothing to do with any impeachment complaint," Nograles told reporters.
Rep. Gus Tambunting of Parañaque also said he prefers the impeachment suits be done away with.
"An impeachment proceeding against the President or the VP is not good for us. The President has already called on Congress to stop these impeachment attempts for the sake of our country's unity and for the stability of government. Let's heed his call," he said.
Albay Rep. Edcel Lagman, a Liberal Party ally of Robredo, expressed confidence the complaint will not hold water. "There are no grounds to impeach the Vice President. And that is very certain."
Robredo, the Liberal Party standard bearer, was sworn in as the country's 14th vice president before barangay captains Ronaldo Coner of Punta Tarawal in Calabangga, Camarines Sur and Regina Celeste San Miguel of Mariana in Quezon City. Around 300 guests, including running mate Manuel Roxas II and presidential sister Kris Aquino, attended the event at the Quezon City Reception Hall.
Aside from the premature oath taking, Lozano's eight-page complaint cited the Vice President for dishonesty and injustice when she shamed the Philippines by comparing it to Somalia or Liberia "where the rule of law has gone down and where streets are littered with corpses of the innocent killed by the police."
"She shamed herself as she makes allegation against her own government, based on patently false data" the complaint, received by the Speaker's office last March 27, read. – With Helen Flores, Christina Mendez