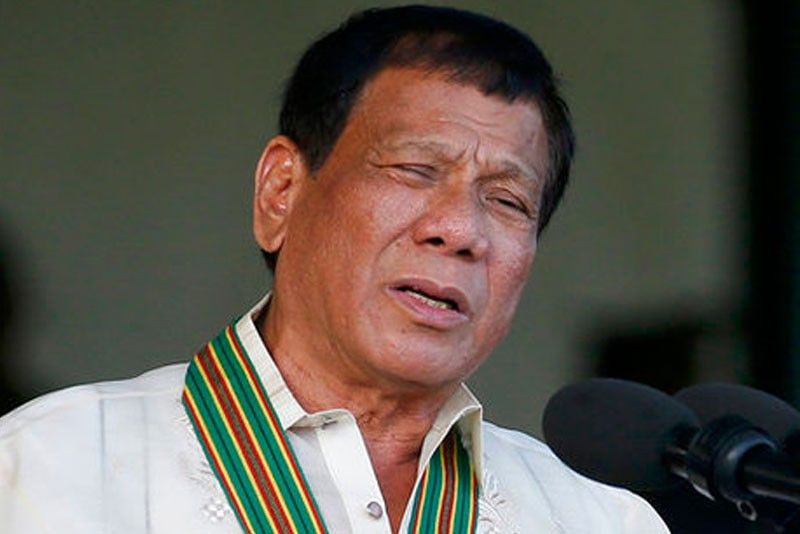 In this Tuesday, April 4, 2017 file photo, Philippine President Rodrigo Duterte gestures while addressing army troopers during the 120th anniversary celebration of the Philippine Army at Fort Bonifacio in suburban Taguig city, east of Manila, Philippines. AP Photo/Bullit Marquez, File
Pressure China on SCS? You're dreaming – Rody
MANILA, Philippines - There's no point in pressing China to comply with the ruling of an arbitral court invalidating its expansive claims in the South China Sea, President Duterte said yesterday.
"You must be dreaming," Duterte told reporters in a chance interview at Malacañang when asked if the decision of the UN-backed arbitral court would be tackled at the summit of the Association of Southeast Asian Nations (ASEAN).
Asked if international opinion could pressure Beijing into submitting to the July 2016 ruling, the President replied, "You cannot do that. You're just dreaming."
The ruling of the tribunal based in The Hague also reaffirmed the Philippines' maritime entitlements in the South China Sea.
"I will skip the arbitral ruling. It is not an issue here in the ASEAN," Duterte said. "Code of Conduct, maybe. But arbitral, it's only between China and the Philippines. So I'll skip that. But the Code of Conduct at sea is another story."
He stressed that the discussions on the code of conduct would not dwell on who has sovereignty over which area.
"Those are theories which you are dreaming (about). That's really the Obama style. All dreams," the President said, referring to former US president Barack Obama, who had criticized his war on drugs.
"You go into reality. Who will dare pressure? Who can pressure China? US? Katagal na niyang construction na 'yan (Those construction activities have been going on for so long). There (were) so many photos and pictures published four years ago," he added.
Duterte said the US – with its formidable military – could have stopped China's construction activities in the South China Sea but it did not. China's artificial islands in disputed waters are now military outposts, complete with airstrips, radar stations and weapons system.
"Eh bakit nila pinayagan 'yan na ganon na tapos tayo itutulak nilang arbitration, arbitration? Gusto nila mag-suicide tayo. Masyado kayong bilib sa Amerika eh (Why did they allow it to happen and then ask us to push for arbitration? They want us to commit suicide. You admire America too much)," he added.
It was the previous Aquino administration, which filed the case against Beijing with the Permanent Court of Arbitration in 2013 or a year after China seized Panatag (Scarborough) Shoal after a standoff with the Philippine Navy, which had tried to arrest Chinese poachers in the area.
China, which claims about 90 percent of the critical trade route, has refused to recognize the ruling, calling it "a mere piece of paper" and "illegal since day one."
Duterte has said he was willing to set aside the ruling as the Philippines seeks closer ties with China. Critics accused him of selling out Manila's interests to Beijing. The President has denied the allegations and has vowed to bring up the arbitral tribunal's ruling within his term.
Duterte, who has been accused of cozying too much with China, said it was his decision to leave out the arbitral ruling in the ASEAN chairman's statement. "Nobody tells me what to do or what to say," the Philippine leader said.
Asked if other ASEAN countries wanted the arbitral ruling mentioned in the statement, Duterte said: "It cannot be an issue… Why should I challenge somebody there, engage someone with a non-issue?"
"You know, what is really justification? A simple education for all? Might is right and right is might," he said.
He expressed belief there is no need to seek the support of other ASEAN member countries on the international tribunal's ruling.
"It's a concern of the Philippines. What's the most that can happen actually? You might want to extrapolate something out of it," Duterte said.
"China said he's completely ignoring the arbitral (ruling). So what more can you ask of it? Make noise? For what?" he added.
"If somebody can answer that question with sense, 'di samahin ko siya, kaming dalawa ang magsisigaw-sigaw (I'll join him and we will shout together)."