Heaviest, prettiest bangus showcased in Dagupan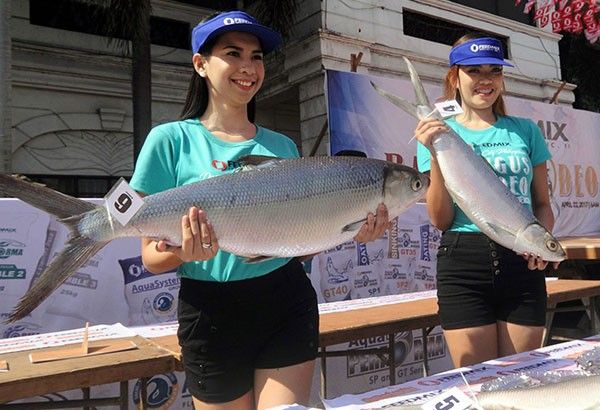 DAGUPAN CITY, Philippines —The heaviest, longest and prettiest milkfish this year took center stage anew yesterday in the Bangus Rodeo here in the known bangus capital of the world.
The heaviest bangus, raised by Frederick delos Reyes of Barangay Salapingao, weighed 8.04 kilograms while the longest, raised by Blas Gabriel Caneng of Barangay Pantal, was 76 centimeters long.
The prettiest, raised by Rene Melendez of Barangay Caranglaan, had small head, round belly, good eyes, intact scales and beautiful fins.
The winner for the heaviest and longest bangus each received P15,000 plus a trophy, while the prettiest got P7,000 with a trophy.
Last year the heaviest bangus weighed only 5.6 kgs while the longest measured 80.5 cms.
All the entries for this year's Bangus Rodeo were exclusively raised in Dagupan City, where the best bangus is raised, according to Liga ng mga Barangay president and Bangus Rodeo chairman Marcelino Fernandez.
A bangus raiser himself, Fernandez told The STAR that the winner in the heaviest bangus, called sabalo or mother milkfish, had been raised for 10 years.
The barangay captain of Lucao also said that bangus raised for the heaviest and longest categories have been cultured by their raisers for about five years or more.
"When harvest time comes, the bangus would be segregated and mixed anew with the next batch for raising," Fernandez said. "This goes on until the bangus is ready for the contest."
Such kind of bangus consumes as much as 40 times the food eaten by a regular bangus raised in a fishpond, according to Fernandez.
"If you sell it already dead, this would cost similar to the prevailing price of bangus per kilo. But if you sell them alive, each piece would cost from P1,500 to P2,000," he said. This is the price tag for bangus at least five years old.
According to Fernandez, the sabalo produces millions of eggs each breeding cycle, making it more profitable to the grower.
During the rodeo, which is part of the ongoing Bangus Festival, Melicio Melendez was adjudged the fastest bangus classifier; Chub Tendenilla, fastest deboner; and Joel Serran and Rowena Melendez, fastest eater tandem.
The winners per category received P3,000 and a trophy.
Mayor Belen Fernandez and Pangasinan 4th District Rep. Christopher de Venecia graced this year's event.
Bangus Rodeo is among the most-awaited events of the annual bangus festival, which shows the pride of the city and the protection it provides to its growers to further promote the industry.