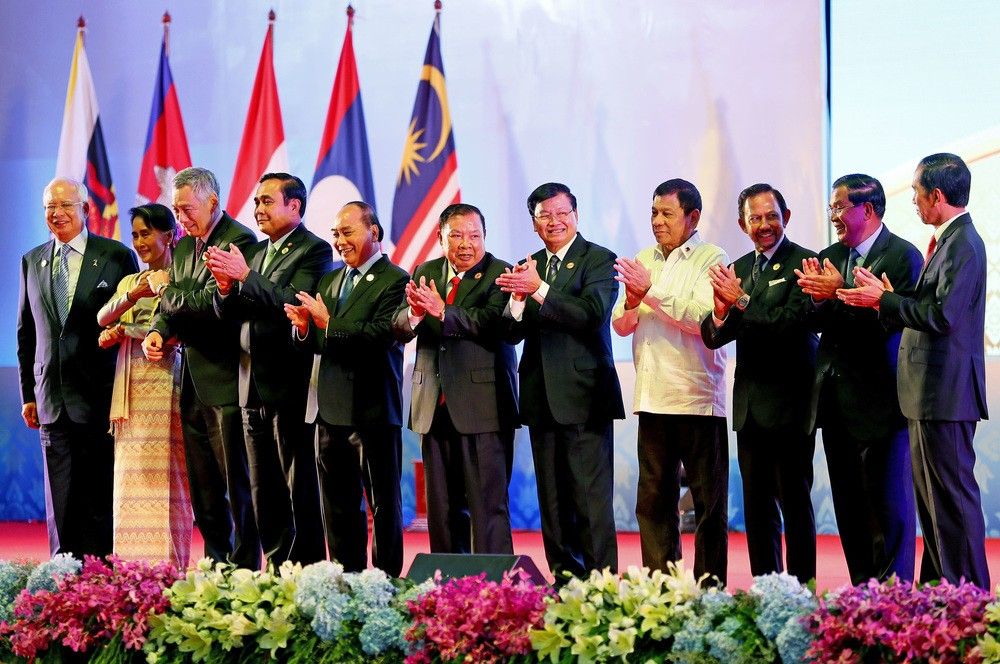 Leaders of the Association of Southeast Asian Nations (ASEAN) pose for a group photo following 28th ASEAN summit plenary meeting at National Convention Center in Vientiane, Laos, Tuesday, Sept. 6, 2016. Leaders from left, Myanmar's State Counsellor and Foreign Minister Aung San Suu Kyi, Singapore's Prime Minister Lee Hsien Loong, Thai Prime Minister Prayuth Chan-ocha, Vietnam's President Tran Dai Quang, Laos Prime Minister Thongloun Sisoulith, Philippine's President Rodrigo Duterte, Brunei Foreign Minister and Prime Minister Sultan Hassanal Bolkiah, Cambodian Prime Minister Hun Sen, Indonesia's President Joko Widodo and Malaysia's Prime Minister Najib Razak.
AP/Gemunu Amarasinghe, File
10 leaders expected to attend ASEAN summit in Manila
MANILA, Philippines — The leaders of all 10 Association of Southeast Asian Nations (ASEAN) members are expected to attend the summit in Manila next week, a government official said.
ASEAN 2017 National Organizing Council Director-General for Operations Marciano Paynor Jr. said that the 10 leaders will first meet up at the Philippine International Convention Center (PICC) before heading to the Coconut Palace for their retreat on April 29.
After the retreat, the ASEAN leaders will return to the PICC for the rest of the meetings.
"This will be culminated by a gala dinner hosted by the president," Paynor said in a televised press briefing.
Duterte, chair of the ASEAN this year, will also hold bilateral meetings with Brunei Sultan Hassanal Bolkiah on April 27 and with Indonesia President Joko Widodo on April 28.
Paynor noted that there have been more requests for bilateral meetings with Duterte but the schedules were tight.
Laos President Bounnhang Vorachith, previous chair of the ASEAN, also requested a bilateral meeting with Duterte, according to Paynor.
The other ASEAN leaders expected to attend the summit in Manila are: Prime Minister Hun Sen of Cambodia, Prime Minister Najib Razak of Malaysia, President U Htin Kyaw of Myanmar, President Tony Tan Keng Yam of Singapore, Prime Minister Prayut Chan-o-cha of Thailand and President Tran Dai Quang of Vietnam.