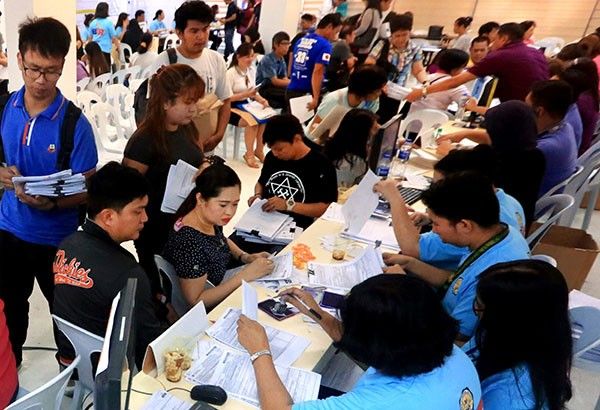 DEADLINE: Taxpayers file their income tax returns at the Bureau of Internal Revenue branch in Intramuros, Manila to beat the deadline yesterday.
EDD GUMBAN
BIR eyes tax compromise with Pacman
MANILA, Philippines - The Bureau of Internal Revenue (BIR) is in talks with boxing champion Sen. Manny Pacquiao for a possible compromise settlement involving his pending P2.2-billion tax evasion case.
BIR Commissioner Caesar Dulay said Pacquiao's team of lawyers met with him last month to negotiate a possible compromise agreement.
"Many are approaching me hoping for a compromise. For example, we are now discussing with the lawyers of Senator Pacquiao," Dulay told reporters in an interview.
According to Dulay, no amount has been suggested yet for the settlement as discussions are still in the early stage.
The commissioner said he is just awaiting the return of Pacquiao's lawyers for a second round of discussions regarding the settlement offer. "They said they will come and see me again. I hope they do it fast," he said.
Dulay's predecessor Kim Henares filed a tax case against the boxer turned senator for his failure to pay P2.2 billion in taxes from his bouts in the US from 2008 to 2009. The amount has ballooned to over P3 billion due to surcharges and interest.
Pacquiao, however, said the government should not run after him as he had already paid $8.35 million in taxes to the US Internal Revenue Service in 2008 and 2009.
Dulay also said he has ordered the bureau's legal team to review the tax case of Dunkin' Donuts franchisee Golden Donuts Inc. (GDI), which stemmed from its failure to pay P1.56 billion in taxes in 2007.
While the BIR under Henares had cleared GDI, Dulay said: "We are still looking at the parameters of the settlement (with Henares) because it is not case closed. In the case of the deficiency assessment, it's not enough."
"(As early as last year) I gave instructions to the (BIR's) legal (team) to take a look again at that Dunkin' Donuts issue and they are working on it," Dulay pointed out.
In 2014, a case was filed by former revenue examiner Othello Dalanon against Henares for the bureau's "intentional failure" to collect the P1.56 billion in tax deficiencies from GDI.
The complainant said he learned about the tax deficiencies after examining the donut company's financial records for 2007.
Henares, however, denied the accusation, saying Dalanon had made a wrong assessment of the company's tax dues after two rounds of review.
GDI, for its part, said it had settled its recomputed tax liabilities in 2012, but refused to disclose the new figures.
The tax issue was revived after President Duterte began his rant against the Philippine Daily Inquirer, whose owner the Prieto family also owns GDI.
In a separate speech, Duterte also accused tycoon Lucio Tan of owing the government P30 billion in unpaid taxes.
Duterte said the Inquirer had been twisting stories on his war on drugs.