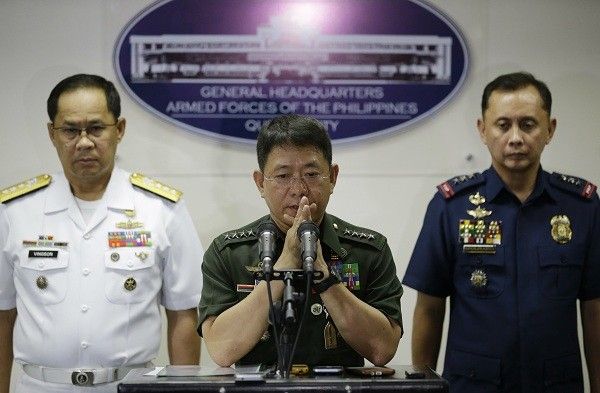 Philippine military chief of staff Gen. Eduardo Ano, center, gestures beside Philippine Navy Vice Adm. Narciso Vingson, left, and Philippine National Police Deputy Director for Administration Ramon Apolinario during a press conference at Camp Aguinaldo, the military headquarters in Quezon city, north of Manila, Philippines, Wednesday, April 12, 2017. Philippine troops battling militants in a central province killed a key Abu Sayyaf commander who had been blamed for the beheadings of two Canadians and a German hostage and was apparently attempting another kidnapping mission, Ano said Wednesday.
AP/Aaron Favila
Tourists safe in Central Visayas, DOT insists
MANILA, Philippines — The Department of Tourism (DOT) expressed confidence on Thursday that Philippine security agencies are capable of protecting travelers to Central Visayas, two days after clashes in a Bohol town between a terrorist group and military and police left 10 people dead and tourists apprehensive to visit the region.
In a statement, the DOT said the Armed Forces of the Philippines (AFP) and the Philippine National Police (PNP) were on top of the security situation in the Central Visayas region as it continues to coordinate with these government agencies to put tourists' concerns at ease.
"In this connection, we are actively coordinating for updates with our local and national security and law enforcement agencies who are fully capable of putting travellers' concerns at ease," the DOT said.
On Tuesday, a group of Abu Sayyaf terrorists engaged security forces in a fierce gun battle in Inabanga town in Bohol. The clashes killed six bandits and four security forces. One of the six killed was Maumar Askali, alias Abu Rami, who was a commander and spokesperson for the group and took part in the kidnapping and beheading of two Canadians and a German in the past.
The terrorist group's foray into Bohol was a first and far from their traditional strongholds in Sulu and Basilan.
The DOT's statement also came days after the US, Canada, Australia and the UK warned their citizens against traveling to Central Visayas because of threats of kidnapping by terrorist groups.
The DOT said that security authorities had given their assurance that both local and foreign travelers could continue with their travel plans, but travelers should exercise safety precaution in their destinations.
"Proper authorities have assured that both international and domestic travellers may continue with their travel plans, even as we remind all stakeholders of usual safety precautions that must be routinely observed at all destinations," the statement read.
The department also thanked the AFP and the PNP for ensuring that the country remained a viable tourist destination.
"We would like to take this opportunity to impart our utmost gratitude to the selfless dedication of our military and police personnel in ensuring that the country remain a safe and peaceful have to visit," the DOT said.