Chinese Coast Guard stationed in Scarborough to administer fishing activities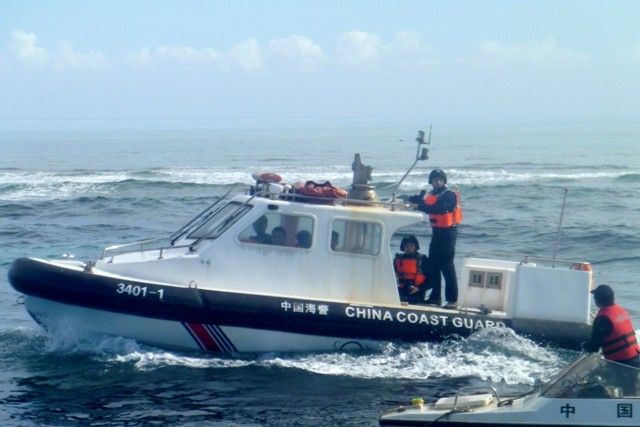 MANILA, Philippines — The Chinese Foreign Ministry confirmed that the country's Coast Guard vessels are stationed in waters near Scarborough Shoal to administer fishing activities.
Chinese Foreign Ministry spokesperson Hua Chunying said that the Philippines and China made arrangements for fishing activities in the area.
"Last year, based on the friendliness between China and the Philippines, China made proper arrangement for fishing activities by Philippine fishermen in the relevant part of waters near Huangyan Dao," Hua said in a press briefing Monday.
Reuters earlier reported that a small Philippine fishing crew is being allowed to fish in the area by the Chinese Coast Guard.
Chinese Coast Guard vessels are also present in the area to preserve peace, tranquility and order, the spokesperson said.
Asked about the statement of President Rodrigo Duterte that he would not place weapons on Philippines-controlled islets in the South China Sea, Hua stressed that China's position on the issue has been clear and consistent.
"We are firm in upholding our territorial sovereignty and maritime rights and interests in the South China Sea," Hua said.
The Chinese Foreign Ministry reiterated that Beijing is committed to settling disputes peacefully through negotiation and consultations with countries directly involved, including the Philippines.
China is also committed to working with ASEAN countries to preserve peace and stability in the region, Hua said.
"China has maintained close and effective communication with the Philippines on relevant issues. We hope that the Philippines can work with us to continue to properly handle differences and create favorable atmosphere for the sound and steady growth of bilateral relations," the spokesperson said.
Duterte earlier ordered the Armed Forces of the Philippines (AFP) to occupy the country's controlled islets and land features in the South China Sea.
The president, however, clarified that there are no new weapons being eyed for the islets as the Philippine military seeks to exercise greater control.
"We are just there to claim the island for us because that is really ours and I have ordered the AFP to build structures there to signify, atin ito," Duterte said before departing for Saudi Arabia.
The president made the order for the military to occupy South China Sea following reports that China is nearly finished with its construction of military facilities on three islands in the Spratly Group.