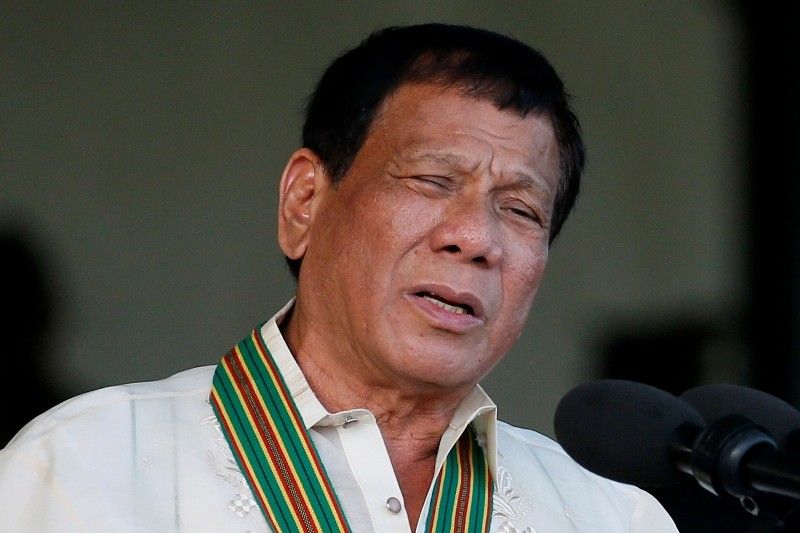 In this Tuesday, April 4, 2017 file photo, President Rodrigo Duterte gestures while addressing Army troopers during the 120th anniversary celebration of the Philippine Army at Fort Bonifacio in suburban Taguig city, east of Manila, Philippines. Results of an independent poll released Wednesday, April 5 showed a drop in the number of Filipinos who trust President Rodrigo Duterte, although he was still considered trustworthy by three-quarters of the respondents despite an impeachment complaint pending against him.
AP Photo/Bullit Marquez, File
Analysts doubt Duterte's seriousness in occupying South China Sea
MANILA, Philippines — A few analysts have expressed doubt on President Rodrigo Duterte's sincerity in ordering the military to occupy at least nine Philippine-controlled islands in the South China Sea.
On Thursday, Duterte said that there is a need to assert the country's jurisdiction over the disputed waters.
This follows reports that China is nearly finished with the construction of its military facilities on three islands in the Spratly Group.
Lyle Morris, policy analyst at the RAND Corporation, said that occupying the islets in the region might put the Philippines on the path to war with China.
"I put zero stock on this statement," Morris said on his Twitter account.
Bonnie Glaser, director of the China Power Project at the Center for Strategic and International Studies, compared Duterte's order to occupy South China Sea with his campaign promise to ride a jet ski to the contested waters.
"I put this in the same category as Duterte's pledge to ride a jet ski to Scarborough Shoal," Glaser said on Twitter.
During one of the presidential debates last year, Duterte said that he would ride a jet ski and plant a Philippine flag on Scarborough Shoal to assert the country's sovereignty.
I put zero stock in this statement. Duterte knows better than anyone that seizure of uninhabited features might put PH on path to war w/PRC. https://t.co/cvVecJUYgM

— Lyle Morris (@LyleJMorris) April 6, 2017
@LyleJMorris Agreed. As I wrote to @fravel earlier, I put this in the same category as Duterte's pledge to ride a jet ski to Scarborough Shoal.

— Bonnie Glaser / ??? (@BonnieGlaser) April 6, 2017
Julian Ku, an international law expert and professor at Hofstra University in New York, said that Duterte's order on occupying the islands seem reasonable if he was being serious about it.
The main risk, however, would be China moving to militarize Scarborough Shoal in retaliation to Duterte's order.
"Duterte seems to be betting they won't do that. I hope he is right," Ku told Philstar.com.
Ku added that the Philippines is only doing what China has done and is doing in fortifying its defenses.
"One important question: has Duterte sought assurance from [the United States] that US defense treaty would apply to any attacks on [Philippine] forces on such disputed islands?" Ku said.
The US has been a military ally of the Philippines for more than 70 years. Duterte, however, blamed the US for China's activities in the South China Sea.
Duterte said that the US should have addressed Chinese activities in the disputed waters as soon as they were informed about it.
"You had to wait for the problem to ripen into international issue involving this time so many countries... You could have cut the problem in the bud had you taken a decisive action," Duterte said.
Contrary to Duterte's claims, the US government under former President Barack Obama deployed freedom of navigation operations in the South China to challenge China's excessive maritime claims.