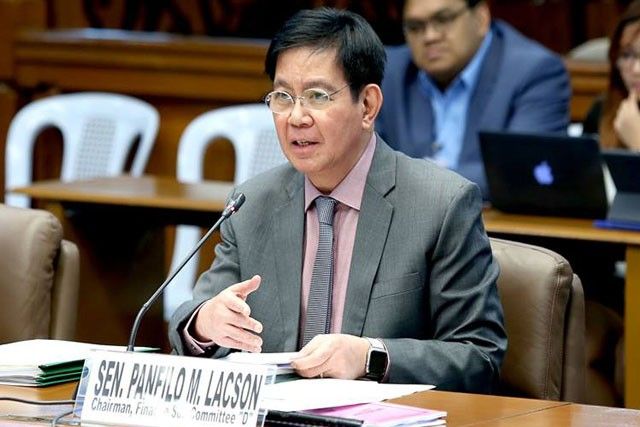 Sen. Panfilo Lacson said that the arrest order against former President Benigno Aquino III is illegal.
Senate PRIB/Albert Calvelo
Reds' order to arrest Aquino is illegal, says Lacson
MANILA, Philippines — Sen. Panfilo Lacson said on Monday that the arrest order made by the communist party's political arm against former President Benigno Aquino III is illegal.
Lacson said that only the court of law of the Philippines, and not the National Democratic Front, is authorized to give out any form of penalty against anyone in violation of the law.
"Anybody else is unauthorized and therefore illegal," Lacson said in a statement on Monday.
He also said that anyone who commits such an act should be made criminally liable.
On Saturday, the NDF's Southern Mindanao branch sought the former president's "arrest" and a trial before a "people's court" after accusing him of human rights violations during the bloody dispersal of farmers in 2016. About 6,000 farmers, three of whom died in the violence, were protesting the lack of government aid despite the harsh El Niño weather phenomenon last year in Kidapawan.
The group said that the respondents, which includes Aquino, North Cotabato Gov. Emmylou Taliño-Mendoza, Kidapawan City Mayor Joseph Evangelista, North Cotabato Rep. Nancy Catamco, and other military and police officials, should be arrested and punished after a trial.
READ: NDF orders Noy's 'arrest' over Kidapawan killings
President Rodrigo Duterte, meanwhile, said that he is leaving it to the republic's courts to decide whether to hold Aquino liable for the violent dispersal in Kidapawan.
Lacson reminded the public that it is the responsibility the Armed Forces of the Philippines and the Philippine National Police to protect the former president and everyone else included on the communist rebels' list.
Lacson also called the Communist Party of the Philippines and its militant wing, the New People's Army, "enemies of the state," despite plans of reviving the group's peace negotiations with government.