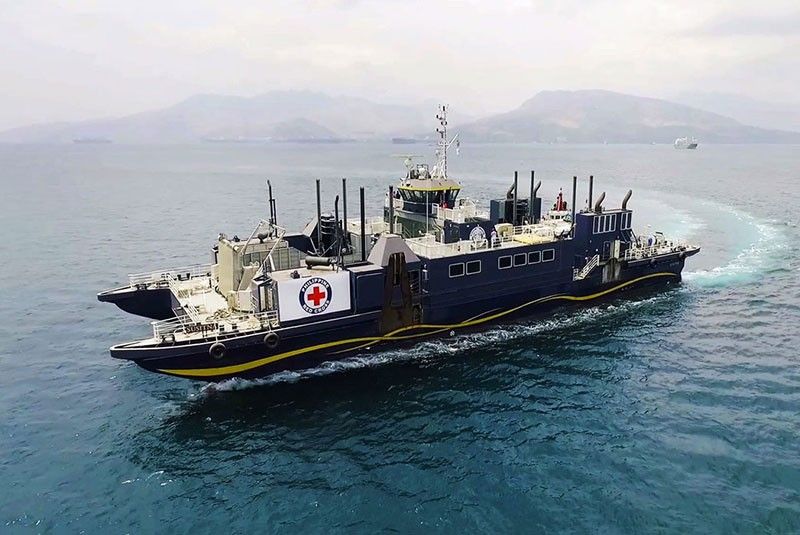 NAME THAT SHIP: The Red Cross has launched a contest to name the country's first humanitarian and disaster response vessel.
Red Cross gets humanitarian, disaster response vessel
MANILA, Philippines - The Philippine Red Cross (PRC) yesterday launched a contest to name its 195-foot military prototype vessel, the country's first humanitarian and disaster response vessel.
Previously called M/V Susitna, the ship originated from Matanuska-Susitna Borough in the US state of Alaska.
The Matanuska-Susitna Borough Assembly unanimously approved the plan to sell the ferry to the PRC for $1.75 million or P88 million, a fraction of what the borough originally hoped to get for it.
The PRC purchased the ship last year and the vessel arrived last Dec. 2. It is docked at the Subic Bay Freeport Zone in Olongapo City.
The vessel is capable of operating both as a cargo-loaded barge that can haul itself onto shore and a twin-hulled vessel that can cut through choppy seas.
The ship can hold up to 120 passengers, 20 vehicles and has a 35-ton overall freight capacity. Its main deck can be lowered to offload equipment and land on beaches in as little as four feet of water.
To operate the ship, P2.4 million is needed for fuel to complete a relief and rescue mission from origin to destination and back. The PRC is also seeking interested partners and donors.
The #NameThatRedCrossShip runs from April 1 to 15. Interested participants may check the PRC's Facebook page www.facebook.com/phredcross/for details of the contest.
According to PRC chairman Richard Gordon, the country's experience with Typhoon Yolanda in 2013 had compelled the PRC to think of "a way forward to ensure that life-saving services and goods reach affected population in the fastest possible time and in the most efficient manner."
He recalled that it took some time for PRC and other humanitarian missions to arrive in the areas devastated by Yolanda due to impassable roads and closure of airports and seaports.
"The ship is the realization of our vision to establish the Philippine Red Cross as the foremost humanitarian organization in the country, capable of delivering timely humanitarian services that save lives and restore the dignity of the most vulnerable," Gordon said.