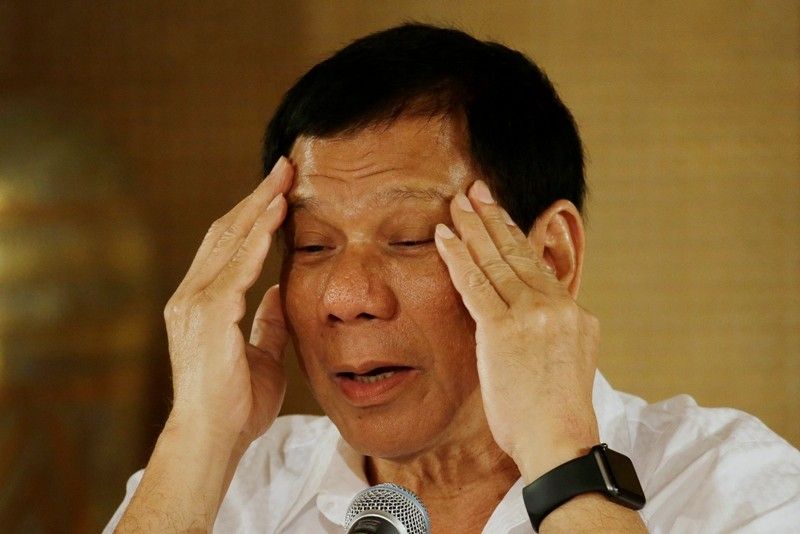 Philippine President, Rodrigo Duterte, gestures as he answers questions from reporters during a press conference at the Malacanang presidential palace in Manila, Philippines Monday, March 13, 2017. The Philippine president has ordered the military to assert his country's ownership of a vast offshore region off its northeastern coast where Chinese survey ships have been sighted last year and alarmed defense officials.
AP/Aaron Favila
DFA chief: Duterte misquoted on Benham Rise issue
MANILA, Philippines — President Rodrigo Duterte was again taken out of context when he said that Chinese ships are allowed to survey Benham Rise, the Philippines' top diplomat said Thursday.
Duterte earlier said that he does not see the reported presence of Chinese ships in the 13-million-hectare area off the coast of Aurora as an "incursion" into the country's territorial waters.
Acting Foreign Affairs Secretary Enrique Manalo said that what Duterte meant was that the Chinese are welcome to conduct a friendly visit to the Philippines.
"He wasn't referring to Benham Rise. He was referring to, for example Russia sent a ship here, you're welcome to visit as long as it's friendly or in accordance with Philippine law. It wasn't in connection with the Benham Rise issue," Manalo said in an interview with ANC's Hot Copy on Headstart.
Manalo stressed that the president did not allow China to send survey ships to Benham Rise as the Philippine government already denied Beijing's request to conduct marine scientific research in the area.
During the Senate inquiry into Chinese activities in Benham Rise on Wednesday, the Department of Foreign Affairs' (DFA) Maritime and Ocean Affairs Office revealed that it has turned down requests from China to conduct research in the undersea plateau in 2015 and 2016.
The DFA Secretary said that the requests from China were denied because they did not fulfill the Philippine government's requirement of having a Filipino scientist on board.
"Maybe China did not want it so the permission was denied," Manalo said.
China still has two or three pending research requests to the Philippines, according to the DFA Secretary.
"Those requests are made and they can be denied. Other countries make similar requests like that," the DFA Secretary said.
Manalo also said that China could not have went straight to Duterte and ask him for permission to survey the area. China still has to go through formal requests before being allowed to conduct a research in Benham Rise.
Asked if China can just call Duterte and ask for permission to visit Benham Rise, Malanlo said "I don't think China will do that because they know the rules."
On the other hand, China has replied to the Philippines' note verbale, seeking for clarification on the reported presence of ships in Benham Rise.
"China replied that number one, they fully respect and recognize sovereign rights of the Philippines on Benham Rise and secondly, it is not an area under dispute and this was confirmed two or three times so the implication is they will follow the rules laid out by UNCLOS and that's how we're going to deal with this issue," Manalo said.
Manalo said that the government was satisfied with China's explanation that they recognize the country's sovereign rights over the underwater plateau.
The Philippines will only allow China to conduct marine research in the region if they fulfill the country's requirements, Manalo said.