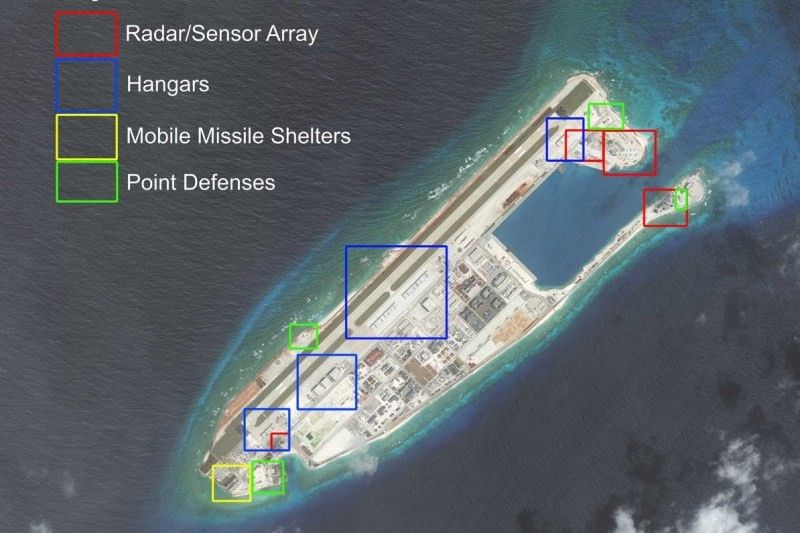 This March 9 satellite image released by the CSIS Asia Maritime Transparency Initiative shows that all hangars for 24 combat aircraft and four larger planes have been completed on Fiery Cross (Kagitingan) Reef.
AMTI/CSIS via DigitalGlobe
China can now deploy military assets to South China Sea
MANILA, Philippines — Beijing can now deploy military assets to the Spratly (Kalayaan) Islands in the South China Sea as wraps up construction of infrastructures on the "Big Three"—Subi (Zamora), Mischief (Panganiban) and Fiery Cross (Kagitingan) Reefs.
Washington-based CSIS Asia Maritime Transparency Initiative (AMTI) reported that China's naval, air, radar and defensive facilities in the islands are near completion.
These facilities in the three air bases would allow Beijing to deploy military assets including combat aircraft and mobile missile launchers to the Spratly Islands at any time.
Another facility on Woody Island in the Paracel Islands would allow Chinese military aircraft to operate nearly the entire South China Sea.
"The same is true of China's radar coverage, made possible by advanced surveillance/early-warning radar facilities at Fiery Cross, Subi and Cuarteron Reefs, as well as Woody Island, and smaller facilities elsewhere," the AMTI said.
Surface-to-air missile systems on Woody Island have been maintained on Woody Island for more than a year, according to the report. China once deployed anti-ship cruise missiles to the island.
China now has constructed hardened shelters with retractable roofs for mobile missile launchers on Subi, Mischief and Fiery Cross Reefs.
The construction of all hangars at Fiery Cross Reef has finished. These hangars can accommodate 24 combat aircraft and four larger planes that can be used for transport, refueling or a bomber aircraft.
In January, radomes protecting radar structures were installed on large towers of the reef, representing a significant radar or sensor array.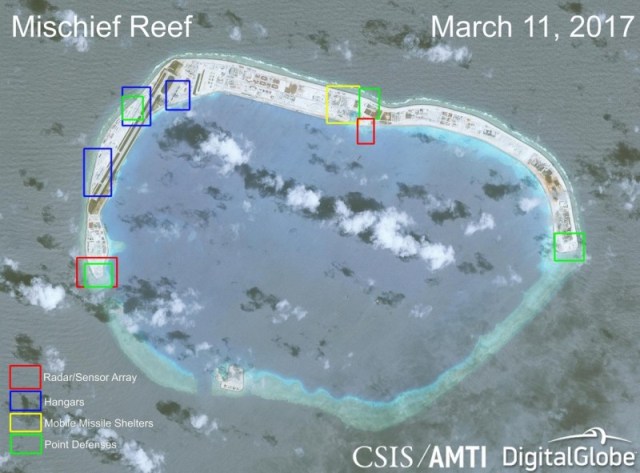 Mischief Reef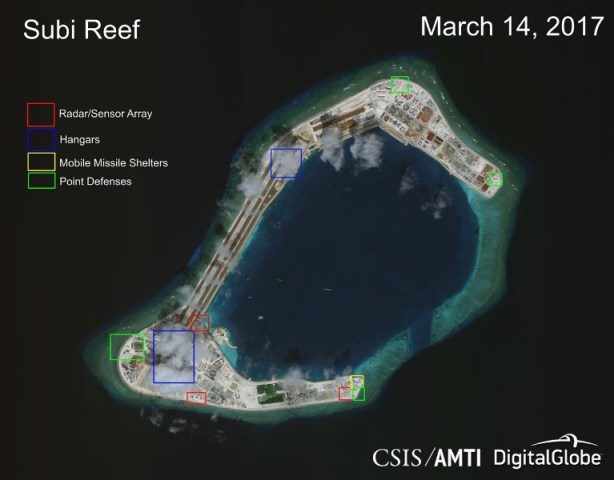 Subi Reef
Construction of hangars for 24 combat aircraft has also been completed on Mischief Reef early March.
"A finished radar tower stands in the middle of the reef and a trio of large towers have been constructed on the southwestern corner. The recent placement of a radome on the ground next to one of these towers indicates that they will follow the same pattern as the identical sets at Fiery Cross and Subi," the report read.
Recent imagery also shows that construction hangars for 24 combat aircraft and four larger hangars is complete on Subi Reef.
A high-frequency "elephant cage" radar array was also seen on the southern end of Subi Reef.
"This is unique among the Big 3. As with radar facilities at the other reefs, this high-frequency radar is close to a point defense structure, providing protection against air or missile strikes," the AMTI said.
The Washington-based think tank has been monitoring Chinese activities in the area for nearly two years.
China's "Big Three" reefs are also being claimed by the Philippines. On July 12, 2016, the Permanent Court of Arbitration released its final and legally binding award on Manila's case against Beijing's nine-dash line claim over the disputed waters.
The arbitral tribunal ruled that Mischief and Subi Reefs are low-tide elevations while Fiery Cross Reef is a rock. The United Nations-backed tribunal also ruled that Mischief Reef is part of the Philippines' exclusive economic zone and continental shelf.