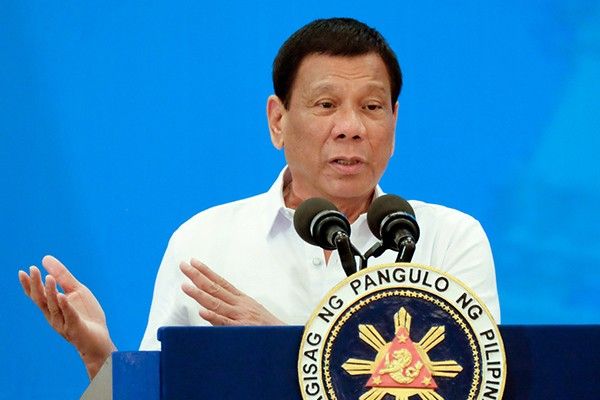 President Rodrigo Duterte urges Filipinos, in his speech during the meeting with the Filipino community at the Horizon Lake View Hotel in Nay Pyi Taw, Myanmar on March 19, 2017, to be more assertive of their rights and proactive in reporting corruption in government.
Rene Lumawag/Presidential Photo
Duterte against same-sex marriage in Philippines
BANGKOK — President Rodrigo Duterte stressed on Sunday that marriage in the Philippines is between a man and a woman as he criticized supposed attempts in the west to blur the lines between males and females and impose it on other countries.
Duterte clarified that he had nothing against homosexuals but made it clear that the Philippines should not be forced to adopt the mindset of the west with regard to gender.
"Tingnan mo 'yung (Look at) Time magazine ngayon. Wala nang (there is no more) gender because you can be a he or she," the president said during a meeting with the Filipino community in Nay Pyi Taw, Myanmar.
"Yun ang kultura nila. Eh di kayo lang, hindi 'yan pwede sa amin. Katoliko kami at (That's their culture. It does not apply to us. We are Catholics and) there is the Civil Code, which says that you can only marry a woman for me… for a woman to marry a man," he added.
The latest issue of Time tackled the alleged blurring of lines between males and females in the United States. The story relied on data from the group Gay & Lesbian Alliance Against Defamation, which has been criticized by conservatives for its supposed attempts to silence those who are against gay marriage.
While he cited Catholicism in criticizing alleged efforts to impose liberal western views on gender, Duterte has been at odds with the Catholic clergy on issues like reproductive health and death penalty.
The Catholic Church in the Philippines is opposed to artificial birth control methods and the reinstatement of death penalty, both of which are being advocated by Duterte. More than 80 percent of Filipinos are Catholics, making the Philippines one of the only two predominantly Catholic countries in Southeast Asia.
Duterte brought up the gender issue after criticizing the European Union for supposedly interfering with the Philippines' affairs.
"Itong mga buang na 'to, hindi ko talaga… (I can't understand these fools). Why are you trying to impose on us? Why don't you mind your own business? Why do you have to you know, f*** with us, goddammit," the tough-talking president said.
Duterte clarified that he respects homosexuals, noting that two of his brothers-in-law and some of his cousins. He maintained though that the west should not meddle with the Filipinos' culture.
"I have nothing against gays," Duterte said.
"Kung saan ka pinuwesto ng Diyos, diyan ka lang. Huwag mong haluin kaming lahat (Wherever God placed you, just remain there. Do not mix it up)… You erase the great divide between a woman and a man," he added.
Before declaring his presidential bid, Duterte told a talk show host that same-sex marriage is "good" because "everyone deserves to be guaranteed happy." In the same interview, Duterte said he backed anti-discrimination policies when he was still mayor of Davao City because everyone has human dignity.