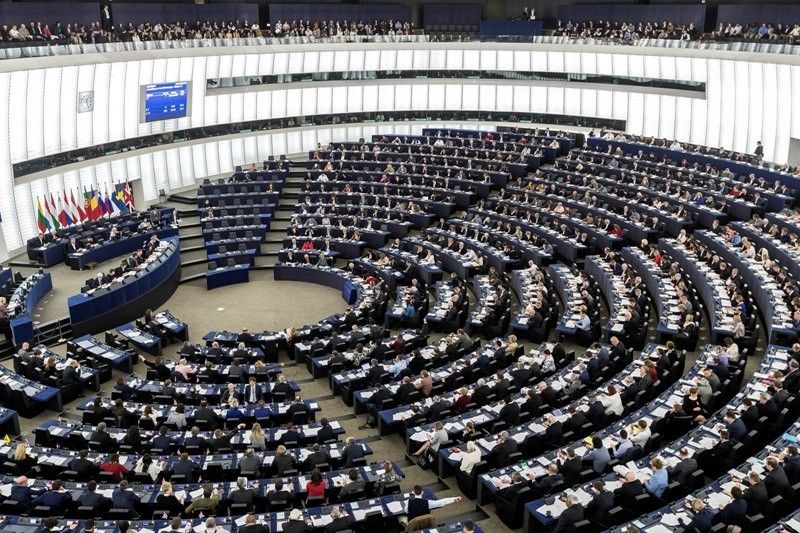 The European Parliament is pictured during the plenary session Wednesday, March 15, 2017 in Strasbourg, eastern France.
AP/Jean-Francois Badias
EU Parliament to vote on call for probe into Duterte's drug war
MANILA, Philippines — The European Parliament is set to vote on supporting the establishment at the United Nations Human Rights Council of an independent international investigation into extrajudicial killings of drug suspects in the Philippines.
The parliament has expressed grave concern over the reported number of extrajudicial killings related to President Rodrigo Duterte's war on drugs.
In its resolution, the European Parliament said it "strongly condemns all extrajudicial killings by armed forces and vigilante groups related to the anti-drug campaign."
The parliament is also concerned over reports that the Philippine police are falsifying evidence to justify extrajudicial killings and that the urban poor is being the targeted.
The European Parliament called on the European Union (EU) to support investigations into the killings and prosecute all perpetrators.
The EU is urged to put pressure to the Philippines to stop the war on drugs and to consider removing the Generalized System of Preference Plus (GSP+) with the country.
The GSP+ is a program of the EU for developing countries wherein they offer additional trade incentives.
The parliament expressed "grave concern with regard to the rhetoric of President Duterte in response to the killing of officers on 8 March 2017 and strongly urges Philippine authorities and military to strictly adhere to the International humanitarian law which places specific restraints on all parties to an armed conflict to spare civilians and non-combatants."
Free Leila De Lima
The European Parliament called on Philippine authorities to immediately release Sen. Leila de Lima and to drop all politically motivated charges against her.
De Lima is a human rights advocate and a renowned critic of the Duterte administration. She was outspoken of her advocacy against the violent war on drugs.
The parliament "calls for the authorities of the Philippines to abstain from political persecution and for such persons to exercise freely their profession and rights without fear of reprisal, hindrance, intimidation or harassment."
The reintroduction of the death penalty in the Philippines is also causing alarm for the European Parliament.
The parliament reminded the Philippines that the EU considers capital punishment as a cruel and inhuman punishment which fails to act as a deterrent to criminal behavior.
If the European Parliament approves this resolution, it will be forwarded to the Government of the Philippines, the Vice President of the Commission or High Representative of the Union for Foreign Affairs and Security Policy, the Council, the Commission, the parliaments and governments of the Member States, the United Nations High Commissioner for Human Rights and the governments of the Association of Southeast Asian Nations member states.