Bayan: Duterte must kick out American troops over US Navy scandal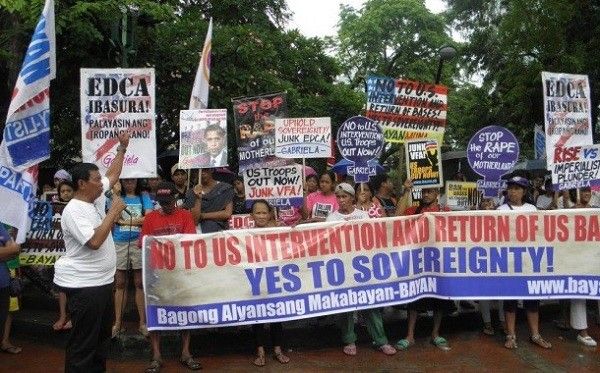 MANILA, Philippines — Bagong Alyansang Makabayan on Wednesday reiterated its call to kick US troops out of the Philippines after it emerged that some American officers engaged in lavish parties and orgies while on port calls in Manila.
Renato Reyes,Bayan secretary general, said the recent revelations should prod President Rodrigo Duterte to cancel military engagements with the US.
"US troops are bad news for the Philippines. They have no qualms violating domestic laws. Duterte must act now and kick US troops out of the Philippines," Reyes said in a text message.
Reyes,citing news reports, said that some US Navy officials received lavish gifts from a Malaysian businessman in exchange for business favors.
"Rear Admiral Bruce Loveless was said to have engaged in shenanigans at the EDSA Shangri-La and Manila Hotel, all paid for by a Malaysian businessman who was bribing the US Navy official in exchange for service contracts and classified information," he said.
Bayan's statement blasting US troop presence in the Philippines came after lurid details emerged about the prostitution and partying that happened in two Manila hotels in two separate years involving Navy officers and officials in exchange for service contracts and classified information.
According to the press reports, during a port visit by the USS Blue Ridge in Manila in 2008, five US Navy officers attended a "raging multi-day party, with a rotating carousel of prostitutes" at the Shangri-La Hotel in Mandaluyong City.
The reports said that the group allegedly drank the hotel's entire supply of Dom Perignon champagne. It also incurred expenses of more than $50,000, which Leonard Glenn Francis, a Malaysian businessman who owns Singapore-based Glenn Defence Maritime Asia, allegedly covered in full.
On another visit by the Blue Ridge in Manila, a sex party for officers was hosted by Francis in the MacArthur Suite of the Manila Hotel. This party allegedly involved sex acts using historic MacArthur memorabilia.
"Recent revelations that US officials engaged in debauchery and other foul acts while in the Philippines, as revealed in a bribery scandal probe involving the US Navy, should raise alarm bells for the Philippine government," Reyes said.
The militant groups said the Duterte should make good on his promise to remove US troops from Philippine soil.
He said that this incident should dissuade the Philippine government from the agreements it has with Washington such as the Enhanced Defense Cooperation Agreement (EDCA) and the Visiting Forces Agreement (VFA) that allow war exercises with and visits by American troops.
Reyes declared: "All the more he should not allow the construction of US facilities under EDCA. All the more he should terminate the VFA and the annual port calls and the Balikatan games."