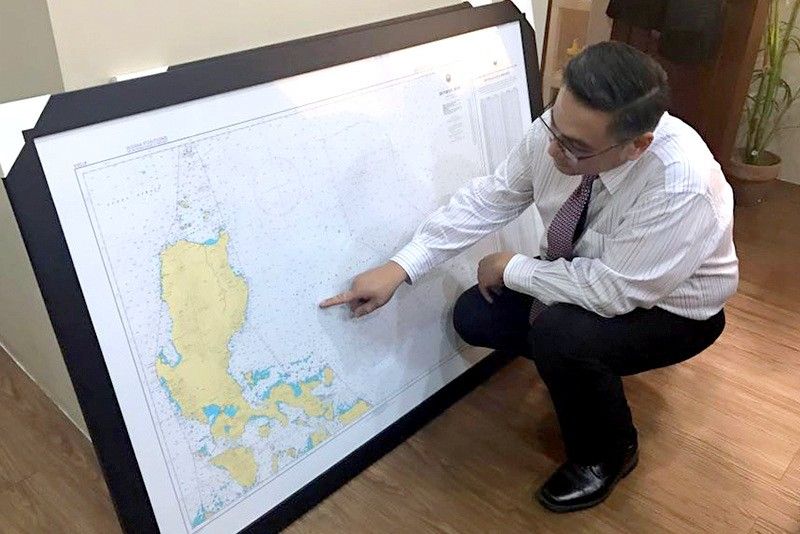 In this photo released on Mar. 14, 2017, Muntinlupa Rep. Ruffy Biazon, vice chair of the House national defense committee, points to the area on the map around Benham Rise, an undersea plateau which expanded the Philippines' baseline in a 2012 United Nations award.
Biazon office
Philippines can go to UN over Benham issue – solon
MANILA, Philippines — The Philippines can go to the United Nations if it can be proven that China did not conduct "innocent passage" defined in international law, House national defense panel vice chair Ruffy Biazon said on Wednesday.
"There's reason for us to doubt that they were really on innocent passage. They have to explain," Biazon, who is a representative from Muntinlupa, said on CNN's "The Source."
Innocent passage is a concept in the law of the sea allowing a vessel to pass through territorial waters of another state under certain restrictions. Passage is deemed innocent when it did not compromise peace, good order or security of the coastal state.
In 2012, the United Nations granted the Philippines' claim over Benham Rise, an undersea plateau, expanding the archipelago's baselines by 13 million hectares.
Several Chinese ships were spotted conducting oceanographic research over Benham Rise, part of the Philippine continental shelf, last year—an incident Defense Secretary Delfin Lorenzana describes as "very concerning."
READ: China survey ships spotted at Benham Rise | China: Philippines can't claim Benham Rise
"Last year, they were monitored there for about three months," Lorenzana said at a defense forum last week.
Biazon said that the diplomatic action for the Philippines to do is approach the UN, but admitted that it would undergo a long of process.
China, meanwhile, is a permanent member of the UN Security Council, whose primary responsibility is to maintain international peace and security.
For now, Biazon said, authorities' gestures should show that the Philippines has sovereignty over Benham Rise. "Show that we are intending to exploit resources that are rightfully ours, and then take steps to secure the area," he said.
He also suggested that the area be placed under surveillance.
"Because if we are to check foreign vessels which (go) on innocent passage, we must have the ability to monitor that they are coming," Biazon said.
While the disputed West Philippine Sea is covered National Coast Watch System, the Eastern seaboard to cover the Benham Rise remains unwatched, the lawmaker said.
"I'm drafting a bill now to come up with a specific recommendations for a strategic security plan," Biazon said.