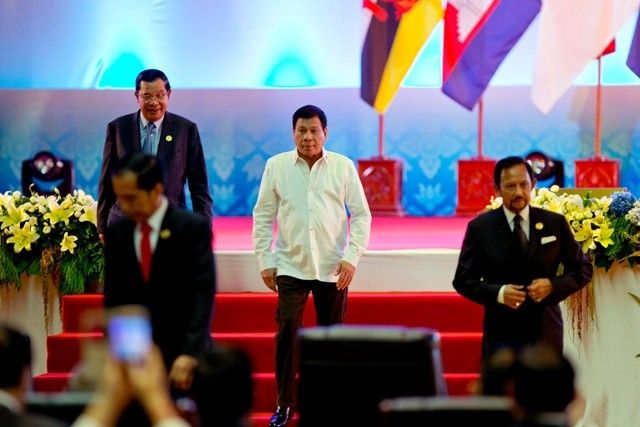 Leaders of the Association of Southeast Asian Nations (ASEAN) from left Cambodian Prime Minister Hun Sen, Philippine's President Rodrigo Duterte and Brunei Foreign Minister and Prime Minister Sultan Hassanal Bolkiah walk back to their seats following the opening ceremony of the 28th and 29th ASEAN summits at National Convention Center in Vientiane, Laos, Tuesday, Sept. 6, 2016.
AP/Gemunu Amarasinghe
Explainer: What to expect from Duterte as ASEAN chair
MANILA, Philippines — At the conclusion of the 28th and 29th Association of Southeast Asian Nations (ASEAN) Summits in Vientiane, Laos on Sept. 8, 2016, President Rodrigo Duterte assumed the rotating chairmanship of the organization.
The Philippines will host ASEAN 2017 with the theme "Partnering for change, engaging the world" in reference to Duterte's campaign slogan "change is coming."
When Duterte accepted the chairmanship, his supporters on social media congratulated him for assuming the leadership of the 10-nation bloc, assuming that he had been elected.
As a matter of fact, the Philippines has long been in line for the ASEAN chairmanship.
Article 31 of the ASEAN Charter states that chairmanship of the ASEAN shall rotate annually based on alphabetical order of the English names of the member states.
The Philippines last hosted the ASEAN Summit in 2006 under the leadership of former President Gloria Macapagal-Arroyo. Former Presidents Corazon Aquino and Joseph Estrada had also chaired the bloc in 1987 and 1999, respectively.
The ASEAN chair is expected to head the following:
the ASEAN Summit and related summits
the ASEAN Coordinating Council
the three ASEAN Community Councils
where appropriate, the relevant ASEAN Sectoral Ministerial Bodies and senior officials
the Committee of Permanent Representatives
Under Article 32 of the ASEAN Charter, the Philippines as a member state holding chairmanship is expected to:
actively promote and enhance the interests and well-being of ASEAN, including efforts to build as ASEAN Community through policy initiatives, coordination, consensus and cooperation
ensure the centrality of ASEAN
ensure an effective and timely response to urgent issues or crisis situations affecting ASEAN, including providing its good offices and such other arrangements to immediately address these concerns
represent ASEAN in strengthening and promoting closer relations with external partners
carry out such other tasks and functions as may be mandated
The chairmanship of the Philippines coincides with the 50th anniversary of the founding of the ASEAN
Upon assuming chairmanship, Duterte said that the Philippines will highlight the ASEAN as a model of regionalism and a global player.
"We will pursue initiative and enhance cooperation with global partners to ensure that ASEAN citizens live in peace, stability, security and growth, all the while retaining ASEAN's centrality, unity and solidarity, we will maintain for all times," Duterte said in his acceptance speech.