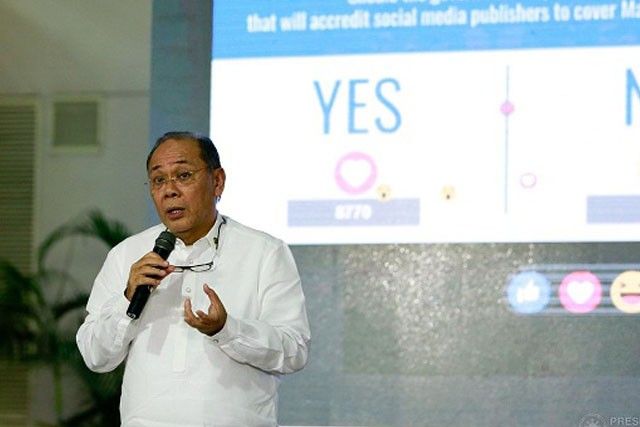 Presidential Spokesperson Ernesto Abella criticized international news channel CNN for branding Sen. Leila De Lima's arrest as "political persecution."
PPD/Release
Palace blasts CNN for report on De Lima arrest
MANILA, Philippines — Malacañang on Wednesday blasted international broadcaster CNN after airing a report that branded the arrest of Sen. Leila De Lima as "political persecution."
Ernesto Abella, the presidential spokesperson, challenged CNN to provide proper context in its reports.
"We challenge CNN International to provide the proper contexts in its telecasts in the interest of fairness and truthfulness in reporting," Abella said.
The Palace spokesperson said that CNN's insinuation that De Lima's arrest was political contradicted established facts and mocks the country's due process and rule of law.
De Lima, considered as President Rodrigo Duterte's staunchest critic, turned herself in to authorities on Friday, Feb. 24 following the issuance of a warrant of arrest against her and former prison official Rafael Ragos and her former driver Ronnie Dayan by a Muntinlupa court.
De Lima's Liberal Party severely criticized Judge Juanita Guerrero's "deplorable haste" to issue an arrest order against De Lima, saying that she did not even study the pertinent documents to the case.
"Ang balita namin, kakarating lang ng Macau nitong judge. Ang alam namin makapal ang motion to quash na finile sa kanyang korte. Basahin naman niya ang motion. The haste is deplorable," the party said several hours after the order was issued.
Vice President Leni Robredo also denounced the arrest of De Lima as a political harassment of De Lima.
"The arrest of Senator Leila de Lima is the latest move in a persistent campaign of political harassment being waged against a duly elected member of Congress," she said in a statement.
Abella said that it was a lower court that ordered De Lima's arrest as well as those of Ragos and Dayan.
"We call the attention of CNN International on its report aired today saying that the arrest of Philippine Senator Leila De Lima smacked of political persecution," Abella said. "For the record, a lower court ordered the arrest of Senator De Lima for drug trafficking charges and for allegedly receiving money from drug dealers at the National Penitentiary."
Abella said that the court found sufficient probable cause to issue a warrant of arrest against her last week. He added that Ragos and Dayan were being held based on claims by witnesses—who are jailed drug lords—that they collected money for De Lima's electoral bid last year.
"All these nefarious activities were said to have been conducted by the Senator when she served as the Secretary of Justice (2010-2015) during the Aquino administration," Abella said.
He also drew comparison between the arrest of De Lima and former Sens. Juan Ponce Enrile, Ramon Revilla and Jinggoy Estrada who were arrested in 2014 on plunder chargers when they were still sitting legislators.
"Not one of them had the temerity to invoke political persecution," Abella said.