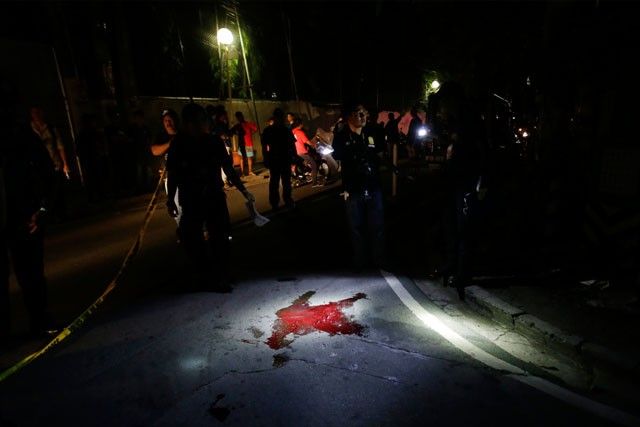 In this Sept. 5, 2016 photo, police inspect the site where alleged drug user Marcelo Salvador was shot dead by unidentified men in Las Pinas, south of Manila, Philippines. Drug dealers and drug addicts, were being shot by police or slain by unidentified gunmen in mysterious, gangland-style murders that were taking place at night. Salvador became a victim, the casualty of a vicious war on drugs that has claimed thousands of lives as part of a campaign by Philippine President Rodrigo Duterte.
AP/Aaron Favila
Troops join 'renewed' war on drugs
MANILA, Philippines — The Armed Forces of the Philippines (AFP) will now be involved in the government's "renewed" war on illegal drugs after it signed an agreement making it the campaign's "force provider."

In a memorandum of agreement (MOA) signed between the AFP and the Philippine Drug Enforcement Agency (PDEA), the former would function as the force provider while the latter will act as the force employer as the government prepares to restart its campaign against illegal narcotics.

This move on the part of the military, however, could force the United States to suspend military aid to the Philippines, according to the Center for Strategic and International Studies (CSIS).

The government's campaign against illegal drugs was ended following embarrassing revelations that anti-drug policemen kidnapped and killed a Korean businessman inside Camp Crame, the national headquarters of the Philippine National Police (PNP).

The government then announced that it was launching a different war, one against rogue members of the PNP, long perceived to be among the most corrupt Philippine agencies.

To effectively play this role, the AFP plans to expand the Joint Counterintelligence Task Force (JCTF) NOAH, a unit tasked to conduct drug-related counterintelligence operations.

The military said that NOAH would assist law enforcement agencies in identifying, investigating and neutralizing persons involved in the use, sale, manufacture and distribution of illegal drugs.

In addition to NOAH, the AFP will also establish regional task groups under the military's unified commands to coordinate direct action, intelligence, legal support and community relations with PDEA's regional offices, according to the MOA signed in Camp Aguinaldo on Tuesday.

Col. Edgard Arevalo, the military's public affairs office chief, clarified that soldiers would be part only of high-value operations and arrests of high-value targets. He further explained that the military would not engage in operation "Tokhang," referring to the house-to-house campaign of the PNP to convince drug users and dealers to stop their activities.

"Our forces and assets provided for each operation will not conduct 'Tokhang,'" Arevalo said.

The military, however, clarified that PDEA would lead all anti-drug operations except in conflict-affected areas such as those plagued by insurgency, secessionism and terrorism.

The AFP and PDEA will also establish an Intelligence Fusion Center to apprehend big-time drug lords, suppress supply sources and control precursor and essential chemicals pursuant to Sec. 84 (m) of Republic Act 9165 or the Comprehensive Dangerous Drugs Act of 2002.

Arevalo said that the country's military would extend legal support to PDEA in all stages of prosecution to ensure that those caught would be punished.

The military also plans to use its assets in assisting PDEA in counterintelligence build-up and investigation of government officials and groups linked to illegal drugs.

They also intend to launch training exchanges in intelligence and counterintelligence, drug enforcement and preventive education and community involvement.

Arrevalo said that the agreement clarified the military's role in the government's anti-drugs campaign.

"With this agreement, we can now push through with our new and bigger role in ending the illegal drugs scourge," he said.