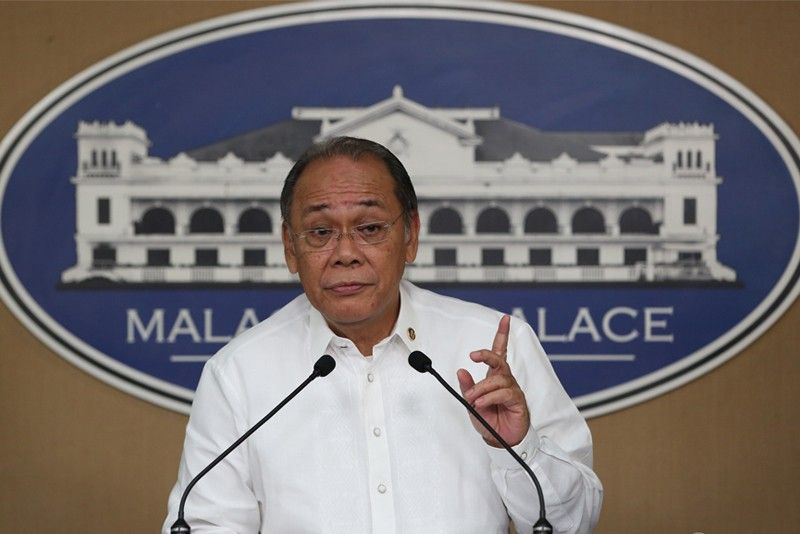 Presidential spokesperson Ernesto Abella answers questions from reporters in this Feb. 9, 2017 photo.
PPD
While assuring US, Palace calls Russia deal an 'alliance'
MANILA, Philippines — Malacañang on Friday sought to assure the United States that it will remain the Philippines' ally under the Duterte administration, but it also loosely described the upcoming security agreement with Russia as a "new alliance."
Presidential spokesperson Ernesto Abella said the "decision to pivot with Russia" is part of Duterte's "independent foreign policy."
The term has been used by Duterte's officials as a way to distinguish a policy direction that shifts away from the United States and closer to Russia and China and regional neighbors.
"This new alliance will not exclude other relationships. The United States will remain an ally," Abella said in a statement.
Duterte has recently met with Russian security officials led by Security Council Secretary Nikolai Patrushev to discuss a cooperation agreement covering security, intelligence, terrorism, crime and law enforcement.
Abella said the meeting is a "concrete example of improving ties between the two nations."
National Security Adviser Hermogenes Esperon Jr. said in a statement Friday that a memorandum of understanding with Russia is being drafted for signing during President Rodrigo Duterte's visit to Moscow.
A memorandum of understanding, however, does not constitute a formal alliance on the same level as the Philippines' Mutual Defense Treaty with the US signed in 1951. The longstanding accord dictates a commitment that the two nations will come to each other's defense if attacked by an external party. An MOU, on the other hand, is not legally binding.
Esperon said in another report that there are no discussions to have visiting Russian forces as of the moment.
Abella said in January when Russian navy ships visited Manila that the Memorandum of Understanding will provide the framework for future engagement between Filipino and Russian troops.
"[That will include] military to military, visiting students, mutual exchanges, and joint military exercises," Abella said then.
'New partners, old allies not interchangeable'
Foreign policy analyst Angelica Mangahas of the think tank ADRI Institute said the country's cooperation with Russia may be mutually beneficial as Russia makes sales for the Armed Forces to have a ready source of arms.
She warned, however, that new partners like Russia are not easily interchangeable with old ones in the support they provide to the Philippines.
"We can't say that any of these countries are not the Philippines' protectors, nor can we assume that partnerships in one domain will translate into other areas. Russia's offer of arms does not mean that Russia is interested in or able to provide support toward the peace process in Mindanao," Mangahas said, writing for Philstar.com.
"Rather than playing fast and loose with labels like 'ally,' it makes more sense to talk about how the countries involved either have mutual obligations, shared goals or individually benefit from cooperation," she added.