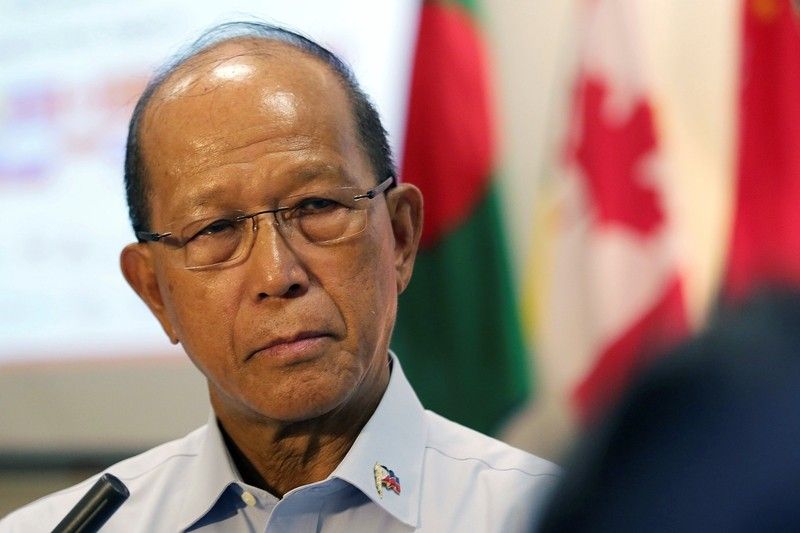 FILE - In this Jan. 25, 2017 file photo, Philippine Defense Secretary Delfin Lorenzana speaks to reporters on the sidelines of the Exercise Coordinated Response (Ex COORES), a multinational Humanitarian Assistance and Disaster Relief table-top exercise with participants from militaries from the Asia-Pacific region, and observers from international, governmental and non-governmental organizations, in Singapore.
AP/Wong Maye-E, File
Lorenzana agrees with Duterte on NPA's 'terrorists' tag
MANILA, Philippines — Defense Secretary Delfin Lorenzana has expressed solidarity with President Rodrigo Duterte in condemning the atrocities committed by the New People's Army and in labeling the group as terrorists.
Lorenzana noted that the military arm of the Communist Party of the Philippines has been sowing chaos and violence in the countryside to see the administration fail.
"I call on the Filipino people to rise up against these criminals and terrorists, Yes, we must intensify our fight against all forms of oppression and exploitation but we must open our eyes wide to see who our real enemies are," the secretary said in a statement.
Earlier this month, Lorenzana announced that the government will be launching an all-out war against the NPA following the cancelation of the peace talks.
Duterte had labeled the communist group as terrorists and ordered the lifting of a unilateral ceasefire.
Lorenzana noted that the members of the NPA "extort people of their hard-earned money, burn government property and equipment, and harass helpless civilians wherever they go."
"They rely on treachery and guile to trick the innocent into joining their misguided cause, and killing those who oppose them," Lorenzana said.
The Defense secretary said that the country's "One Defense Team" remains committed to protecting the state from internal and external threats.
"This is our fight—the fight of every Filipino—and we will not stop until our country is free of those who want to rule through terror and oppression," Lorenzana said.
Earlier this week, the NPA released a video of the two soldiers they kidnapped in Sultan Kudarat and urged Duterte to work out their release through a peaceful negotiation.
The two soldiers—Pfc. Samuel Garay and Sgt. Solaiman Calocop—were abducted days before the NPA terminated its unilateral ceasefire with the government earlier this month.
The NPA assured the families of the two soldiers that they are treated humanely and are not being tortured.