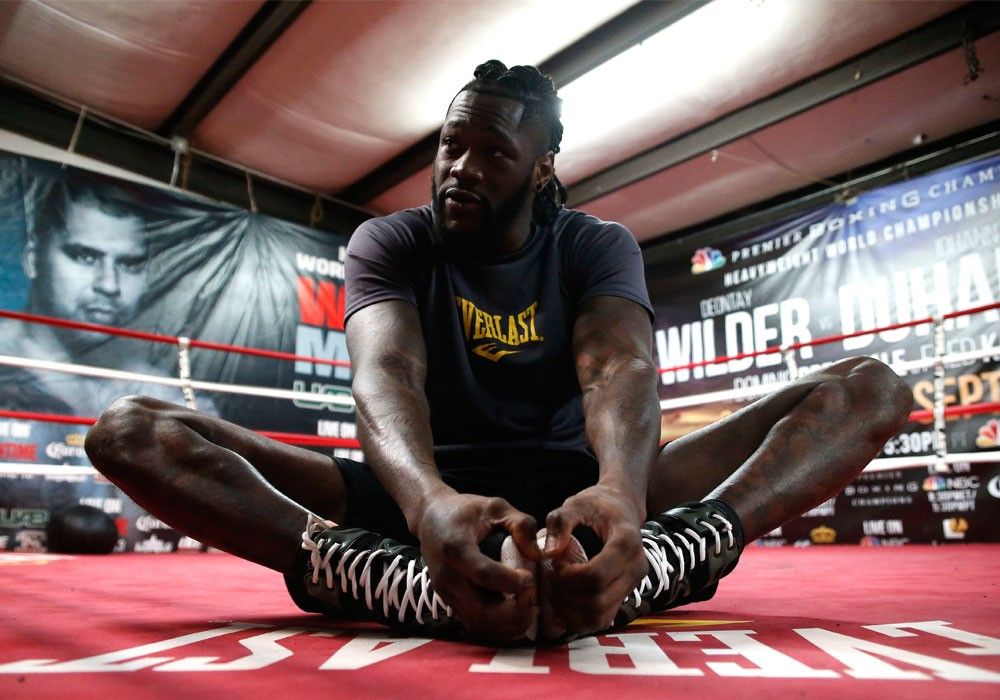 Deontay Wilder works out for the media in Northport, Ala., Tuesday, Feg. 14, 2017, as he prepares for his WBC heavyweight title defense against Gerald Washington on Feb. 25 in Birmingham, Ala.
Gary Cosby Jr./Tuscaloosa News via AP
Heavyweight champ Wilder: Boxing needs to crack down on cheaters
(Associated Press) - February 17, 2017 - 12:11pm
MONTGOMERY, Ala. — Deontay Wilder wants more of a crackdown on cheating "before it ruins the sport of boxing."
The unbeaten WBC heavyweight champion's last two fights have come after his original opponents — Alexander Povetkin and Andrzej Wawrzyk — tested positive for banned substances.
Now, Wilder (37-0, 36 knockouts) faces unbeaten substitute Gerald Washington (18-0-1, 12 KOs) on February 25 in Birmingham, Alabama. He interrupted training camp to spend eight days in New York for a trial, seeking the $5 million he was scheduled to receive for the Povetkin fight last summer. A jury unanimously ruled in his favor on Monday.
Wilder celebrated the ruling even as he bemoaned the circumstances surrounding his last two fights.
"I was shaking my head. It's sad," Wilder said in a conference call on Thursday. "It's sad for the sport. I just hope something even more can be done about this situation before it ruins the sport of boxing. I think the WBC is doing a fabulous job in bringing the doping program and having these fighters sign up for it and if they don't they're off the rankings. But I also would like to see it go into second gear.
"I want to see some punishment done. I want to see if you do this, if you put a steroid or anything that allows your body to do what it's not naturally supposed to do, I think you should not only get suspended, but maybe indefinitely, or fined. We need to do something."
Wilder said winning the Povetkin case was a step toward warning fighters of the potential consequences, but wants violators to lose more than money.
"They need to take their career away from them because this is ridiculous," he said.
Wilder said trainer Mark Breland went with him to New York for the trial, but that weather and long days in court did cause him to miss some training time. He hasn't fought since a ninth-round knockout of Povetkin replacement Chris Arreola last July, when Wilder suffered a broken right hand and torn biceps in the same