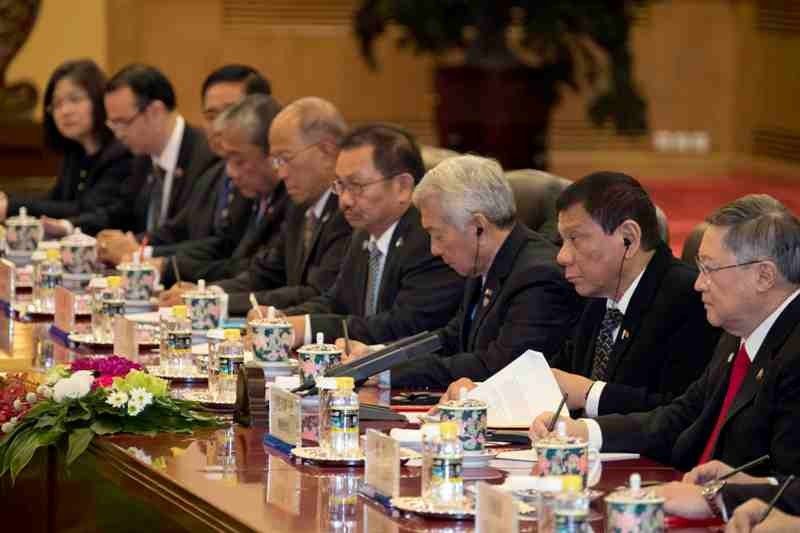 FILE - Philippine President Rodrigo Duterte, second from right, holds meetings with the Chinese President Xi Jinping during a bilateral meeting in the Great Hall of the People in Beijing, China, Thursday, Oct. 20, 2016. The Freedom of Information Bill in the House of Representatives excludes the release of information in foreign affairs as its revelation may jeopardize the country's diplomatic relations with other states.
AP/Ng Han Guan, Pool
National security, foreign affairs exempted from FOI
MANILA, Philippines — Access to information directly related to national security or defense and foreign affairs of the country will be kept secret under the guidelines of the proposed Freedom of Information Act in the House of Representatives.
The FOI Act upholds and strengthens the right to information with regard to the full protection to the right to privacy of individuals.
"Access to official record, and to documents and papers pertaining to official acts, transactions, or decisions, as well as to government research data used as basis for policy development, shall be afforded the citizen, subject to such limitations consistent with this Act," the proposed measure read.
Access to information will be granted unless it involves national security as its revelation, the proponents believe, may cause grave damage to internal and external defense of the state.
Close Ad X
Information on foreign affairs of the country will also be an exemption to FOI as its revelation may "weaken the negotiating position of the government in an ongoing bilateral or multilateral negotiation or seriously jeopardize the diplomatic relations of the Philippines with one or more States."
Sufficient information on the matters, however, will be disclosed to afford public participation and government decision making on bilateral and multilateral agreements.
The proposed measure also excludes disclosure of information involving business and trade secrets, personal privacy and ongoing criminal investigations.
Those who will falsely deny or conceal the existence of information mandated under the FOI will be subject to penalty of imprisonment of one to six months with dismissal from service.
Destroying of information and documents under the proposed act will also be considered a criminal liability.
Meanwhile, refusal to promptly forward the request of the proposed FOI Act to public officers, failure to act on request within periods required by the Act or refusal to comply with the decision of an immediate supervisor or any court ordering release of information will be considered as administrative liabilities.
The House Committee on Public Information has passed the FOI bill through a unanimous vote on Wednesday.
On July 24, 2016, President Rodrigo Duterte signed the FOI executive order which covers all agencies under the executive branch. He signed the executive order three weeks after he assumed office.