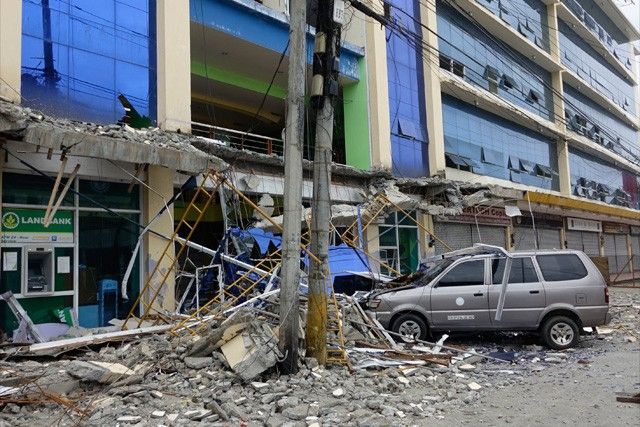 Fallen debris from a building are seen Saturday, Feb. 11, 2017 following a powerful nighttime earthquake that rocked Surigao city, Surigao del Norte province in southern Philippines. The late Friday quake roused residents from sleep in Surigao del Norte province, sending hundreds to flee their homes.
AP
WATCH: Duterte visits quake-stricken Surigao City
MANILA, Philippines — President Rodrigo Duterte has visited Surigao City on Sunday afternoon to personally check on the affected residents and oversee the rescue operations.
In his speech, Duterte said that the city was lucky the magnitude 6.7 earthquake was not as strong as in other places. He said it could have been worse if it reached magnitude 7.
He also mentioned other topics in his speech including corruption, closure of mining companies and the Communist Party of the Philippines.
The magnitude 6.7 quake hit Surigao City on Friday night killing at least six individuals and leaving over 100 people injured.
Prior to Duterte's arrival, the residents of Surigao City and nearby towns and provinces experienced aftershocks. There was even a magnitude 4.1 aftershock that jolted the city while residents are waiting for his arrival.
Meanwhile, Vice President Leni Robredo is set to visit the quake-stricken city early this week. Her camp said the team just conducted a ground assessment before her visit.
Watch Duterte's speech in this video posted by RTVM: