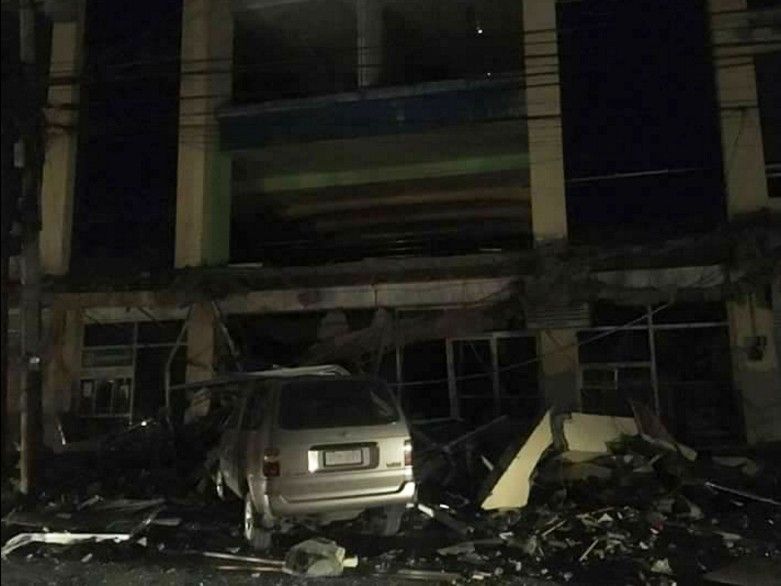 Building damaged by the 6.7-magnitude earthquake in Surigao del Norte.
Twitter/Liana Rendon
Strong quake kills 4, injures 90 in Surigao
MANILA, Philippines (2nd update; First published at 10:55 a.m.) - A powerful 6.7-magnitude earthquake killed at least four people and injured about 90 others as it tore down buildings and destroyed airport in Surigao del Norte.
As of 6 a.m. Saturday, Surigao City Vice Mayor Alfonso Casurra said that the death toll from the quake has risen to four as reported by the City Disaster Risk Reduction And Management Office (CDRRMO).
Some injured residents were brought to the Caraga Regional Hospital in Surigao City, which was placed on Code Blue alert following the impact of the earthquake experienced late Friday.
The magnitude 6.7 quake occurred at 10:03 p.m. Friday, according to the Philippine Institute of Volcanology and Seismology (Phivolcs).
Its center was traced 14 kilometers (8 miles) northwest of the provincial capital of Surigao at a relatively shallow depth of 11 kilometers (6.8 miles).
Nearly 100 aftershocks have been felt, officials said, adding that schools were being reopened as evacuation centers for residents wary of returning to their damaged homes.
The quake was felt strongest in Surigao City and Pintuyan, Southern Leyte, where Intensity VI was reported.
Intensity is a measurement of the shakes produced and felt at a certain area.
According to the Phivolcs Earthquake Intensity Scale, Intensity VI shakes are "very strong" that heavy objects or furniture move or may be shifted.
Intensity V or shakes which are "generally felt by most people indoors and outdoors" was reported in Mandaue City; San Ricardo, Limasawa and San Francisco, Southern Leyte.
Intensity IV, shakes which are "moderately strong" was felt in Hinunangan, Southern Leyte and Butuan City.
Intensity III was reported in Hibok-hibok, Camiguin, Tolosa and Tacloban, Leyte; Bislig City; and Gingoog City, Misamis Oriental; where shaking was "felt by many people indoors especially in upper floors of building."
Intensity II, shakes "felt by few individuals at rest indoors," was reported in Cagayan de Oro City; Talocogon City, Agusan del Sur; Dumaguete City and Cebu City.
Under instrumental intensities, Phivolcs reported that the quake was measured at Intensity II in Bislig City and Intensity I in Cebu City and Cagayan de Oro City.
According to local officials, the Anao-aon Steel Bridge in the municipality of San Francisco, Surigao del Norte has collapsed and is not passable. Other roads were partly damaged.
A power outage was reported in Surigao City and the municipalities of Malimono, Mainit, Sison, San Francisco, and Taganaan, all in Surigao del Norte province.
The city's airport was temporarily closed due to cracks in the runway, aviation officials said. - with report from The Associated Press