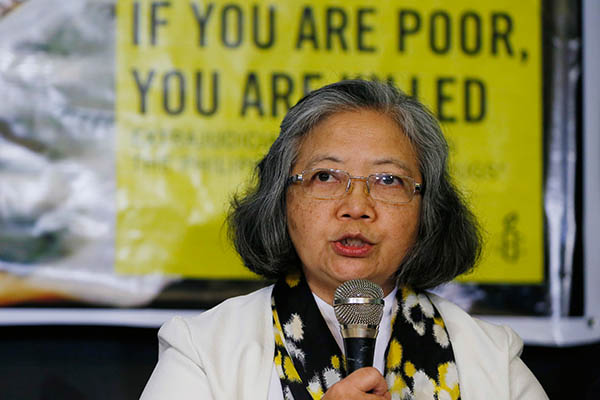 Amnesty International's Board of Trustee Sis. Maria Vida Cordero addresses the media during a video news conference with her Amnesty International researcher Rachel Chhoa-Howard in London, Wednesday, Feb. 1, 2017 in suburban Quezon city, northeast of Manila, Philippines. A majority of the thousands of killings of poor suspects under President Rodrigo Duterte's anti-drug crackdown appear to be "extrajudicial executions," Amnesty International said Wednesday, and may constitute crimes against humanity. AP Photo/Bullit Marquez
Duterte calls Amnesty International 'naive and so stupid'
MANILA, Philippines — President Rodrigo Duterte has described Amnesty International (AI) as "naive and so stupid" and challenged the group to find out the truth about the drug menace and the spate of killings in the Philippines.
AI reported last week that the Philippine National Police (PNP) acted on the instructions "from the very top of government" and have executed thousands of suspected drug offenders. According to the group, the policemen also paid others to finish off drug suspects.
AI also claimed that the Duterte administration's anti-drug campaign systematically targeted poor people and encouraged policemen to break laws while profiting from the death of poor people.
Duterte denied the allegations and even assailed the AI for coming up with an "unverified report."
"This Amnesty (International is) so naive and so stupid. Why would we kill people? Ano itong gobyernong ito tagapatay na parang aso (Do they think this government kills people the way dogs are killed)? There has to be a reason. Find out the reason and find out the truth," the president said during his visit to his parents' graves in Davao City Saturday night.
"You (did not see the) need to ask the government. You just go ahead and publish anything you want and it's easy to condemn because people judge best when they condemn," he added.
Duterte explained that some policemen were given money so they can catch the drug pushers in the act of selling narcotics.
"I gave them P150 million for this year. Do you know why? They are out to arrest drug traffickers. If they do not have money, whoever you arrest, there can be no buy and sell of drugs so it's not trafficking. Maybe possession (of illegal drugs) if you conduct arrest," he said.
"They go out to buy then arrest them because that is really trafficking, buy and sell of drugs. Kung walang pera yan, ano bibili nila? B**** nila (If they don't have money, what would they use to buy drugs? Their testicles)?"
Duterte admitted though that some rogue policemen may have killed the drug pushers, pocketed the money and sold the narcotics.
"It is now up to Bato (PNP chief Dir. Gen. Ronald dela Rosa) to make an accounting of where the money went, was it spent?...and what was the scheme?" he said.
Duterte denied that the policemen were given additional incentives to kill drug pushers.
"Why would I pay you for doing your job?" Duterte said.
The president also took a potshot at Sen. Leila de Lima, a vocal critic of his anti-narcotics campaign whom he accused of receiving millions from drug lords.
"Is that the only thing you (de Lima) can produce? The report of amnesty?" Duterte said.
"You must remember, Amnesty International is a creation of (George) Soros," he added, referring to the Hungarian-American billionaire whom the president has accused of funding a group that criticized his drug crackdown
Asked how he would react if the Senate decides to look into the AI report, Duterte replied: Hayaan nila. Hanapin nila ang totoo (Let them do it. They should find the truth)."
The president hinted though that more people would die because of his campaign against illegal drugs.
"I have been trying to figure out a way of explaining it. Ngayong nandito na tayo sa cemetery, tutal lugar na ito ng mga patay, marami pang pupunta dito. T*** in*** yan (Since we are here in a cemetery, a place for the dead, many more would come here. Sons of b*****)," he said.