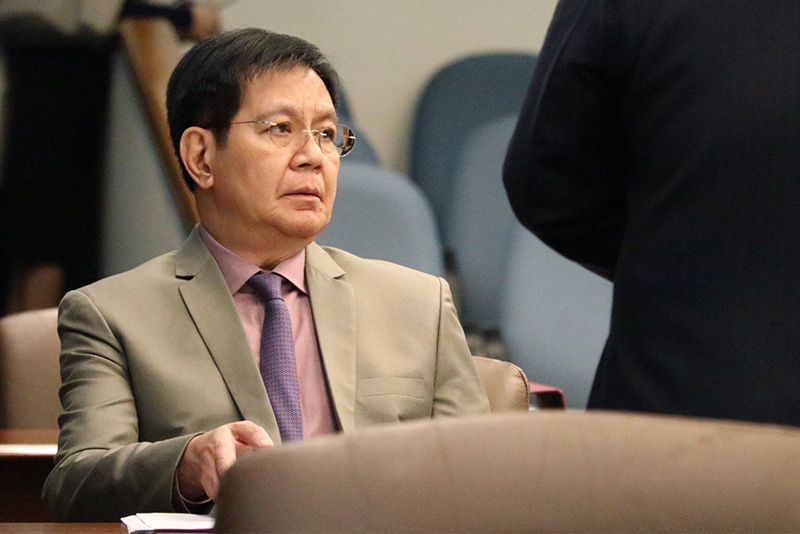 Sen. Panfilo Lacson said that while Dela Rosa is off to a good start in his bid to cleanse the PNP of scalawags, having erring policemen do push-ups while being cursed is not what the public expects out of this campaign. Lacson office/Released
Senators unimpressed by push-ups for Angeles cops
Marvin Sy
(The Philippine Star) - February 4, 2017 - 12:00am
MANILA, Philippines - Senators are not buying the stunt pulled by Philippine National Police (PNP) chief Director General Ronald dela Rosa earlier this week of "punishing" the seven Angeles City policemen who extorted money from Korean tourists after the erring officers were ordered to do stationary push-ups.
Sen. Panfilo Lacson said that while Dela Rosa is off to a good start in his bid to cleanse the PNP of scalawags, having erring policemen do push-ups while being cursed is not what the public expects out of this campaign.
More than scolding and shaming the erring policemen, Lacson said that the people want to see concrete actions taken to get rid of police scalawags.
"It's a good message. Push-up, cursing and everything are symbolic but it should go beyond that. What the people are waiting for is to see what positive action it (PNP) has aside from meting out the appropriate or commensurate punishment," said Lacson, who was once a PNP chief.
Lacson said that the PNP leadership should take proactive measures to discourage its members from engaging in illegal activities.
"After this, what else will he do to prevent future incidents from taking place? That is what's more important," he said.
During a visit to Angeles City last Wednesday, Dela Rosa angrily confronted the seven policemen who were relieved from Angeles City police station 5 that allegedly extorted money from Korean tourists Min Hoon Park, Le Ki Hun and Lee Jun Hyung, who were released after they paid the suspects last December.
The alleged robbery extortion happened at around 6:30 p.m. on Dec. 30 at Friendship Plaza in Angeles City.
In front of television news crew and photographers, Dela Rosa berated the policemen before ordering them to do push-ups.
Sen. Francis Pangilinan, in his Twitter page, lamented how Dela Rosa was treating the erring police with kid gloves.
While his men are using force in going after suspected drug users and pushers, Pangilinan noted that the policemen found committing crimes are merely reprimanded and ordered to do push-ups.
"Their case involves robbery and extortion and before the media, they were not jailed, they were not disarmed, they were not even handcuffed," Pangilinan said in Filipino.
"Before the media they were even allowed to wear their uniforms that only damaged further the image of the PNP," he added.
He cited the apparent double standard in the administration of justice by the PNP when it comes to its own personnel.
"If a poor addict 'fights back,' he is killed. But if it's a policeman who commits a crime, he is made to do push-ups. What kind of madness is this?" Pangilinan said.
Last Thursday, Sen. Francis Escudero also criticized the Angeles City event of Dela Rosa as nothing more than a publicity stunt.
"It is clearly for camera or TV purposes only. Why didn't he order anyone to do push-ups or cursed at anyone in Crame when that was where the Korean (Jee Ick-joo) who was kidnapped was taken and killed?" he said.
Sen. Gregorio Honasan, chairman of the Senate committee on national defense and security, warned the administration yesterday that the government's war against illegal drugs cannot just be "turned off and on" amid high-profile cases of crooked cops taking advantage of the campaign to kidnap and extort money from victims.
"The war against drugs, criminality, terrorism, rogue cops and soldiers must be done simultaneously and cannot be just turned off and on," he said in his Twitter account.
The seven Angeles City police officers were transferred yesterday to the PNP headquarters in Camp Crame, Quezon City.
"They are in restrictive custody in Camp Crame as ordered by the chief PNP," Chief Supt. Aaron Aquino, Central Luzon police director, said in a text message.
Police Officers 3 Roentgen Domingo and Jose Yumul, PO2s Richard King Agapito, Ruben Rodriguez III and Rommel Manicdao, PO1s Mark Joseph Pineda and Jayson Ibe arrived at Camp Crame at around 1:50 p.m. – With Paolo Romero, Emmanuel Tupas, Ric Sapnu