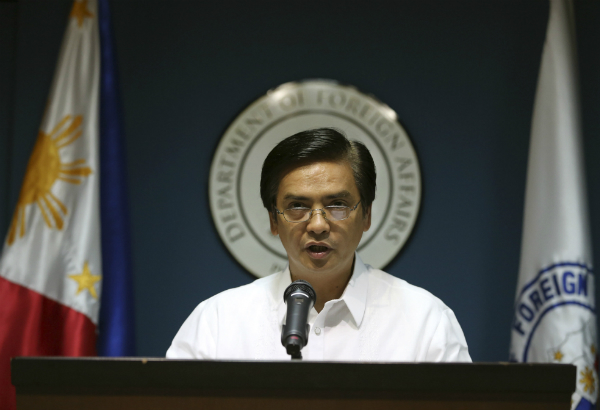 "Our embassy and consulates in the US will continue to extend all possible consular assistance to Filipinos who may be impacted by the new US immigration policies," DFA spokesman Charles Jose said. File photo
DFA to assist Pinoys affected by new US policies
Helen Flores
(The Philippine Star) - February 2, 2017 - 12:00am
Manila, Philippines - The Department of Foreign Affairs (DFA) is ready to provide consular assistance to Filipinos in the United States who will be affected by the country's new immigration policies.
"Our embassy and consulates in the US will continue to extend all possible consular assistance to Filipinos who may be impacted by the new US immigration policies," DFA spokesman Charles Jose said.
The DFA confirmed that out of the 3.4 million Filipinos in the US, around 310,000 are undocumented.
STAR columnist Jose Manuel Romualdez reported that an estimated 310,000 Filipinos in the US are included in the Department of Homeland Security's list of individuals who are up for deportation.
Romualdez had declined his appointment as ambassador to the US due to health reasons.
US President Donald Trump has vowed to strengthen the campaign against violators of immigration laws, which he believes are taking jobs away from Americans and legal immigrants.
He has also signed an executive order barring citizens of seven predominantly Muslim countries from entering the US for the next 90 days and suspending the admission of refugees for 120 days.
The order covered citizens from Iraq, Syria, Iran, Sudan, Libya, Somalia and Yemen.
President Duterte said he would not help undocumented Filipino immigrants in the US as the Trump administration intensifies its crackdown on illegal aliens.
"To the Filipinos there, you better be on the right track. If you are not allowed to stay there where you are staying, get out. Because if you are caught and deported, I will not lift a finger," Duterte said.
Voters may be affected
The Commission on Elections (Comelec) has expressed concern that the immigration policies of Trump may stop undocumented Filipinos in the US from registering as voters.
Comelec Commissioner Arthur Lim said although the Philippines is not included in the seven countries banned by Trump from entering the US, the order might have an impact on some Filipinos.
"Because if you are staying in a particular country, the laws of that country bind you. So they may think that if they come out and register, they might get entangled with US laws, that if they are illegally staying, they might get deported," Lim said.
He reminded that it is the right of every Filipino to vote even abroad, regardless of immigration status.
"It is beyond us, whether or not a Filipino abroad is documented or undocumented. What we want for them is to go to our posts to register as voters and vote during elections," he added.
There are some four million Filipinos in the US where over 263,000 voters registered for the May 9 elections.
According to Comelec director Jane Valeza, the poll body might not be able to meet their quota of registering at least one million Filipino voters in the US because of Trump's policies.
"They might not be able to deliver in the US. But they are doing their best to encourage the Filipinos there to register. They are also doing satellite registrations to reach out to voters," Valeza added.
The DFA is also urging all overseas Filipino workers to register for the 2019 midterm elections. Registration started last Dec. 1, 2016 and will end on Sept. 30 next year.
Lim reminded them that it is safe for the OFWs to apply for voter registration because they do not share Comelec records even with host countries.
"We are implementing a data privacy law in Comelec. All these data that will be gathered are absolutely confidential and they will be protected by the Comelec," he maintained.
BI won't stop Muslims
Meanwhile, the Bureau of Immigration (BI) at the Ninoy Aquino International Airport terminals will not prevent any foreign passengers from seven Muslim countries who arrive at the airport with connecting flights to the US despite Trump's order of banning Muslims from entering the US for 90 days.
"We will just check their documents and let them proceed to board their respective flights. We will hold them if they violated our Philippine laws," said Red Mariñas, BI Port Operations Division chief.
"We will not also prevent from boarding flights bound for the US the passengers from seven Muslim countries that have stayed in the Philippines for several days as tourists," he added.
Trump issued an order directing the Secretary of State, Secretary of Homeland Security, director of National Intelligence and director of the Federal Bureau of Investigation to come up with new immigration-screening procedures.
"We don't want them here," said Trump. "We want to ensure that we are not admitting into our country the very threats our soldiers are fighting overseas and to make America safe."
– With Rudy Santos