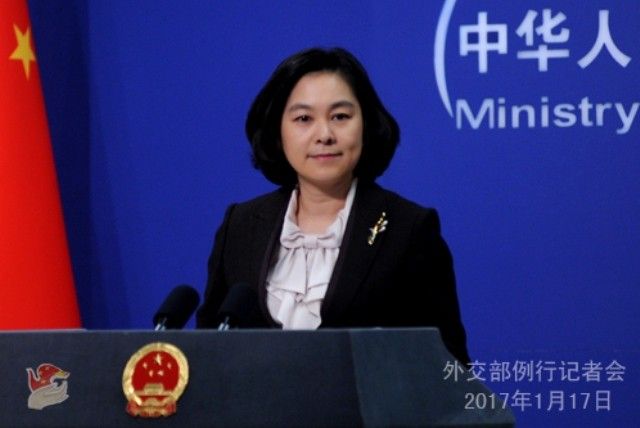 Chinese Foreign Ministry spokesperson Hua Chunying holds a press briefing in Beijing.
FMPRC
China asserts rights to install facilities in South China Sea
MANILA, Philippines — Beijing insisted that the Spratly Islands in the disputed South China Sea is part of its inherent territory following a diplomatic note sent by the Philippines.
Foreign Affairs Secretary Perfecto Yasay Jr. earlier confirmed that the Philippines has sent a note verbale to China after verifying reports that it has installed anti-aircraft and anti-missile weapons on its artificial islands in the disputed sea. A hague-based arbitral tribunal recognized the Philippines' jurisdictional rights over the maritime features in July last year.
"China has the right to deploy necessary and proper national defense facilities on its own territory," Chinese Foreign Ministry spokesperson Hua Chunying said at a press briefing.
Hua stressed that China is committed to peacefully resolving maritime disputes in the region through negotiation and consultation with concerned countries.
"The South China Sea issue is cooling down and returning to the right track thanks to joint efforts by China and relevant parties including the Philippines, and this meets the common interests of China and the Philippines and the aspiration of all, and does good for peace and stability of the South China Sea," Hua said.
China expressed its willingness to make continuous efforts for peace and stability in the region alongside all parties including the Philippines.
The Philippines sent the note verbale to China after seeing a threat to national interest.
"It is a communication where we ask for verification from China and also make sure that we are not taking this sitting down but it's not unusual," Yasay said in a television interview earlier this week.
President Rodrigo Duterte met with visiting Chinese Vice Foreign Minister Liu Zhenmin last night amid concerns over China's installations in the South China Sea.
Malacañang, however, said that the meeting was a simple courtesy call and exchange of pleasantries.