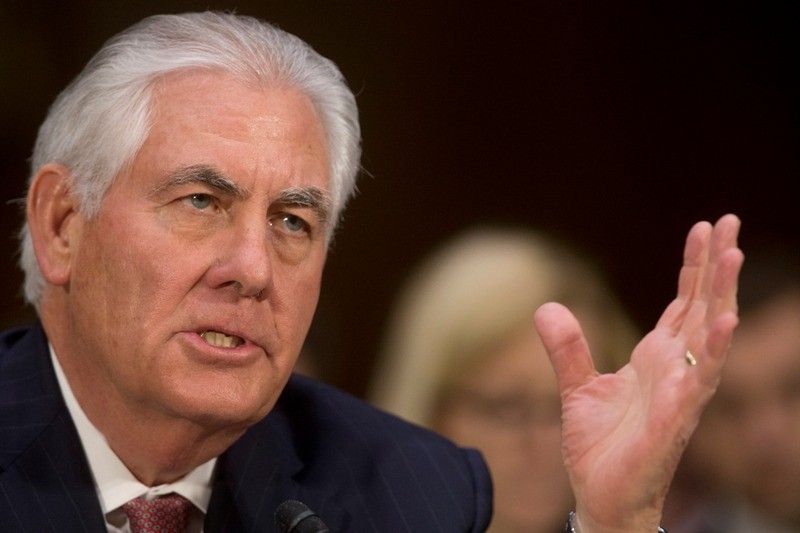 Secretary of State-designate Rex Tillerson testifies on Capitol Hill in Washington, Wednesday, Jan. 11, 2107, at his confirmation hearing before the Senate Foreign Relations Committee.
AP/Steve Helber
Trump's bet for state secretary wants aggressive stance in South China Sea
MANILA, Philippines — United States President-elect Donald Trump's nominee for secretary of state sees the need to send a clear signal against China's island-building activities in the South China Sea.
Rex Tillerson said that China's island building in the disputed waters has to stop.
In his confirmation hearing, Tillerson likened China's activities in the disputed South China Sea to Russia's annexation of Crimea.
He said that China's actions are "extremely worrisome" and that the failure of the US to respond "has allowed them to keep pushing the envelope."
Trump's nominee noted that the US should back up its allies in the region and use the Association of Southeast Asian Nations (ASEAN) to send such message to China.
"We're going to have to send China a clear signal that, first, the island-building stops and, second, your access to those islands also is not going to be allowed," Tillerson said, in a statement rarely heard even among proponents of a more hawkish US position in the sea row.
Tillerson's remarks are sure to anger China, which claims sovereignty over much of the South China Sea.
Over objections by the US and rival claimants including the Philippines, China has reclaimed thousands of acres of land and constructed military-grade infrastructure, and reportedly installed weaponry.
On July 2016, the Permanent Court of Arbitration ruled that China violated its commitment to the United Nations Convention on the Law of the Sea by constructing artificial islands in the Philippines' exclusive economic zone.
The arbitral tribunal also concluded that China's nine-dash line claim over the South China Sea does not have legal basis.
The Philippines' officials under President Rodrigo Duterte, however, have so far flip-flopped on the possibility to raise the arbitral tribunal's ruling with China in resolving the maritime dispute in international forums such as the ASEAN.
Foreign Affairs Secretary Perfecto Yasay Jr. said the Philippines will be raising the arbitral ruling's decision with China in future bilateral talks but not during the upcoming ASEAN Summit. — with reports from Associated Press