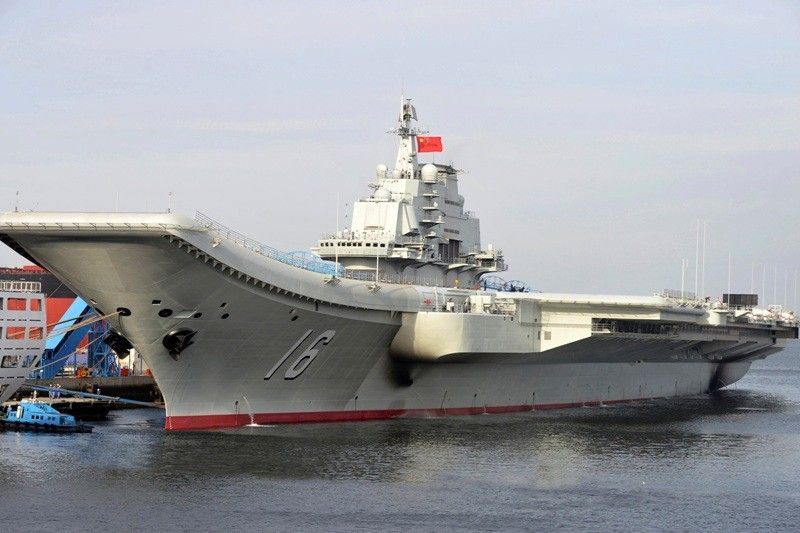 FILE - In this undated file photo released by China's Xinhua News Agency, China's aircraft carrier Liaoning berths in a port of China. China's military says its first aircraft carrier group has carried out a series of fighter launch, recovery and air combat exercises in the Yellow Sea amid tensions with the U.S. and Taiwan. The Defense Ministry announced late Friday that the Liaoning carrier group conducted the drills in the Yellow Sea in recent days and is scheduled to continue exercises farther afield.
AP/Xinhua, Li Tang, File
China confirms its carrier held drills in South China Sea
(Associated Press) - January 4, 2017 - 9:30am
BEIJING — China confirmed that its aircraft carrier has for the first time conducted drills in the South China Sea with a formation of other warships and fighter jets, a move that could raise concerns among its neighbors.
The Defense Ministry said several J-15 fighter jets took off and landed from the flight deck of the aircraft carrier Liaoning on Monday. The Liaoning, China's first and only aircraft carrier, sailed into the South China Sea last week.
The confirmation late Monday came days after Taiwan's Defense Ministry said the carrier and five other warships had passed south of Taiwan. The self-ruled island deployed fighter jets to monitor the fleet.
China calls the drills part of a routine open-sea exercise, but they could add to tensions between Beijing and Taipei. Taiwanese President Tsai Ing-wen has refused to endorse Beijing's concept that Taiwan is a part of China. Beijing claims the self-governing island as its own territory and says failing to endorse the one-China principle would destabilize relations.
Purchased as an incomplete hull from Ukraine more than a decade ago, the Liaoning was commissioned in 2013 and in November was declared ready to engage in combat by the ship's political commissar.
China hasn't described specifically how it intends to use the Liaoning, but it is seen as helping reinforce China's increasingly assertive claims in the South China Sea in the face of challenges from the U.S. Navy and others.
Tensions have mounted in the South China Sea, where the U.S. and China accuse each other of engaging in a dangerous military buildup. China claims nearly all of the sea and is pitted against smaller neighbors in multiple disputes over islands, coral reefs and lagoons.
China is currently building its second aircraft carrier.