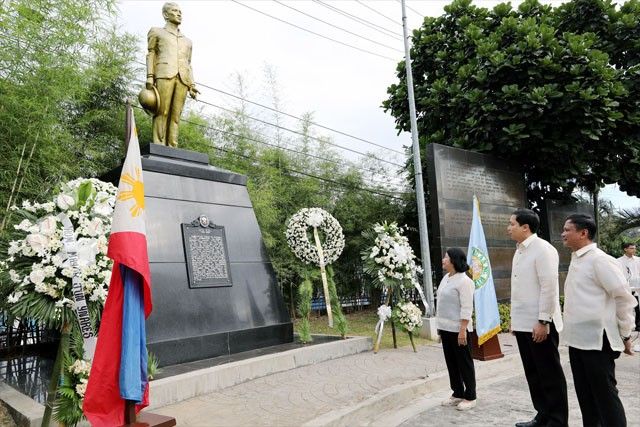 Rizal Vice Governor Reynaldo San Juan Jr. (right), Antipolo City Mayor Casimiro Ynares (middle) and Antipolo City Vice-Mayor Josefina Gatlabayan (left) lead the 120th celebration of the martyrdom of Dr. Jose Rizal Friday (Dec. 30, 2016) at the Rizal Monument, Rizal Provincial Capitol Compound in Antipolo City, with this year theme: "Rizal: Bayaning Global, Aydol ni Juan".
PNA/Joey O. Razon
Robredo to Filipinos: Like Rizal, continue to speak truth
MANILA, Philippines – Vice President Leni Robredo urged Filipinos to follow the footsteps of 19th century hero Jose Rizal in fighting for freedom and speaking the truth.
In her statement for the commemoration Rizal's martyrdom, Robredo cited Rizal's life and work which gave hope and courage to those who are in despair and living in fear.
She said Rizal's life is a proof of the importance of liberating power and education.
"We celebrate the life of Dr. Jose P. Rizal, and remember his contribution to the Filipino people," Robredo said.
"His legacy is a continuing reminder that it is the duty of every Filipino to find the courage to always speak truth and unfailingly safeguard the freedom of its people," she added.
The vice president then urged the Filipinos to unite amid adversities and bravely defend the rights of fellow countrymen as the country celebrates Rizal's memory and legacy.
"We fight so that there may be more justice and more liberty, and for the the sacred rights of man," Robredo quoted Rizal's letter to Marcelo Del Pilar.
The country is observing the 120th death anniversary of Rizal, whose work and words inspired the revolt against the Spanish colonialist power at the turn of the century.