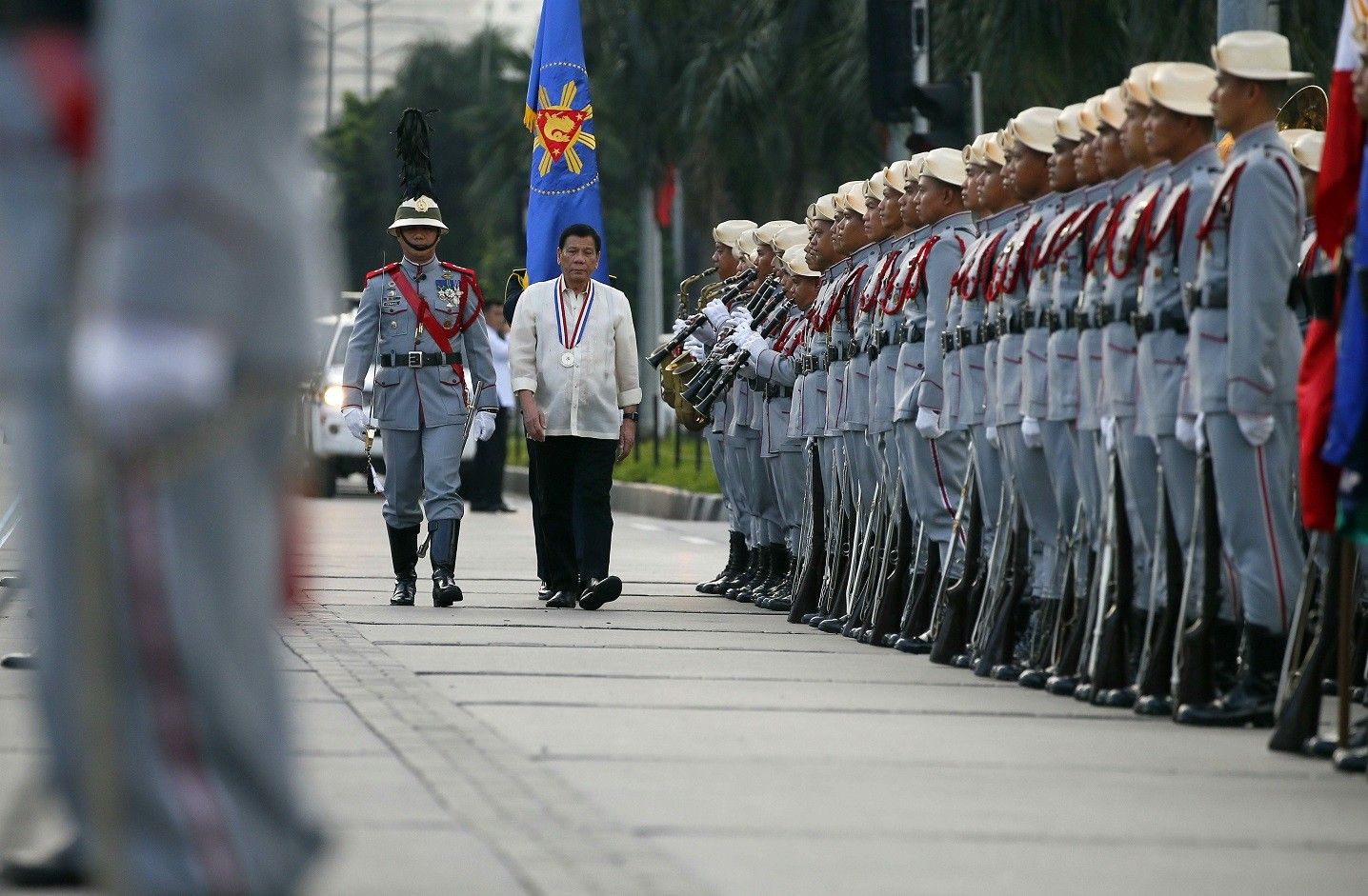 Philippine President Rodrigo Duterte, center right, reviews the troops as he leads the flag-raising ceremony to commemorate the 120th death anniversary of the country's National Hero Dr. Jose P. Rizal Friday, Dec. 30, 2016 in Manila, Philippines.
AP/Bullit Marquez
IN PHOTOS: Duterte leads commemoration of Jose Rizal
AJ Bolando
(Philstar.com) - December 30, 2016 - 3:31pm
MANILA, Philippines — President Rodrigo Duterte led the 120th commemoration of 19th century Filipino hero Jose Rizal at the Rizal Park in Manila City on Friday.
Duterte offered flowers before the statue of Rizal along with other government officials, including former president and now Manila Mayor Joseph Estrada.
In his message, the president asked the Filipinos to also become the heroes of the nation toward reaching "genuine change."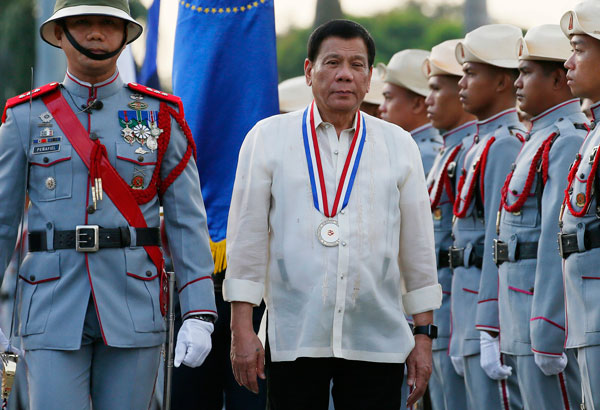 President Rodrigo Duterte reviews the troops as he leads the flag-raising ceremony to commemorate the 120th death anniversary of the country's national hero Jose P. Rizal Friday, Dec. 30, 2016 in Manila, Philippines. AP/Bullit Marquez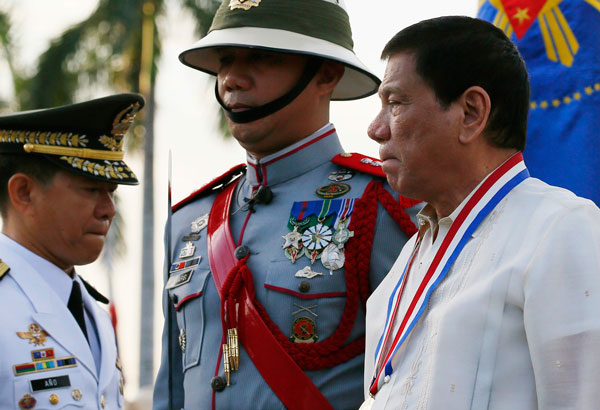 President Rodrigo Duterte, right, and Philippine Armed Forces Chief Gen. Eduardo Ano, left, switch positions as they review the troops during flag-raising ceremony to commemorate the 120th death anniversary of the country's National Hero Dr. Jose P. Rizal Friday, Dec. 30, 2016 in Manila, Philippines. AP/Bullit Marquez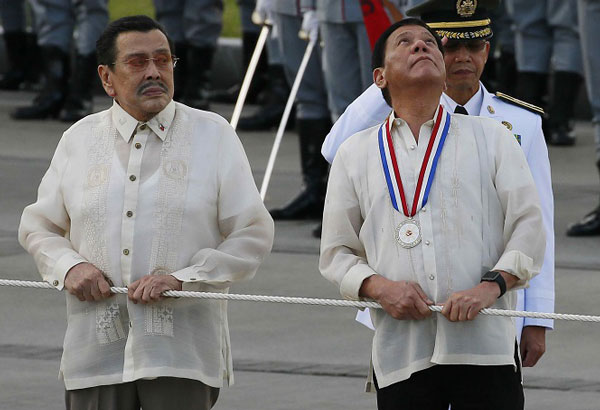 President Rodrigo Duterte, right, looks up as he leads the flag-raising ceremony along with former President and now Manila City Mayor Joseph Estrada to commemorate the 120th death anniversary of the country's National Hero Dr. Jose P. Rizal Friday, Dec. 30, 2016 in Manila. AP/Bullit Marquez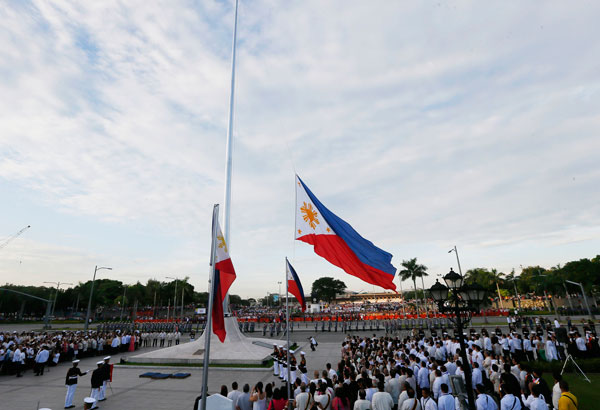 A Philippine flag is raised by top government officials led by President Rodrigo Duterte during the ceremony to commemorate the 120th death anniversary of the country's National Hero Dr. Jose P. Rizal, who was executed by firing squad during the Spanish occupation of the Philippines, Friday, Dec. 30, 2016 in Manila, Philippines. AP/Bullit Marquez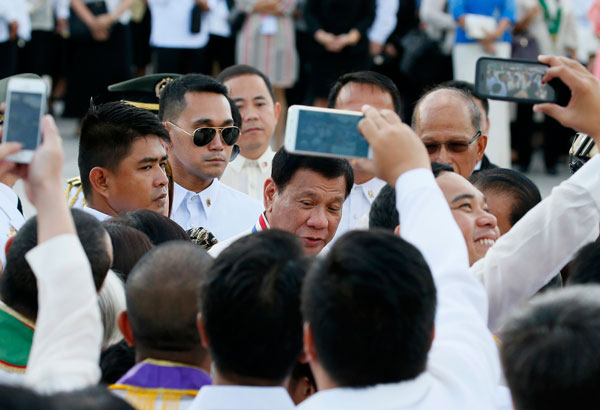 Philippine President Rodrigo Duterte, center, greets the crowd following the flag-raising ceremony to commemorate the 120th death anniversary of the country's national hero Jose P. Rizal Friday, Dec. 30, 2016 in Manila, Philippines. AP/Bullit Marquez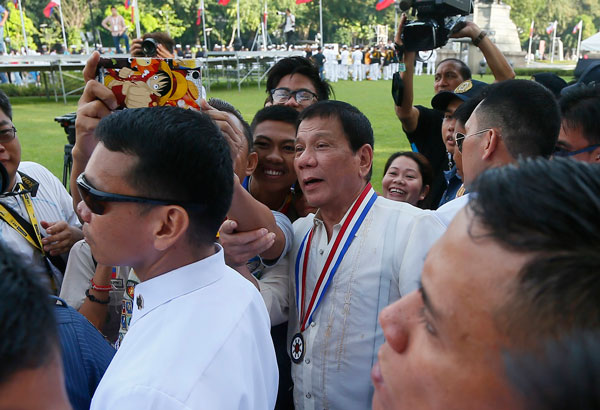 Philippine President Rodrigo Duterte, center, poses for souvenir photos with supporters shortly after leading the flag-raising ceremony to commemorate the 120th death anniversary of the country's National Hero Dr. Jose P. Rizal Friday, Dec. 30, 2016 in Manila, Philippines. AP/Bullit Marquez