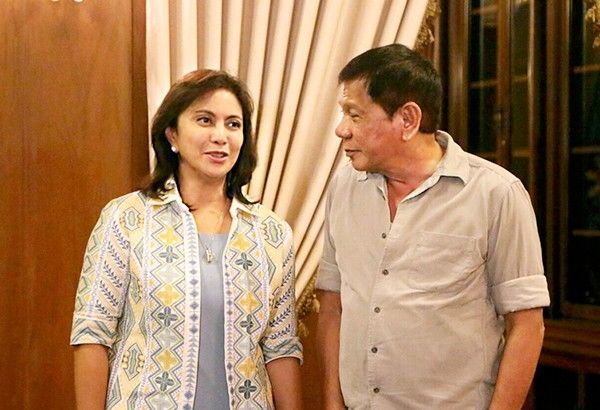 President Rodrigo Duterte said he found it odd that Vice President Leni Robredo would be facing him in Cabinet meetings after attending the rallies of "sore losers" who want him out of office.
STAR/File photo
Leni kicked out for attending 'ouster' rallies – Duterte
Alexis Romero
(The Philippine Star) - December 30, 2016 - 12:00am
MANILA, Philippines - Vice President Leni Robredo was excluded from Cabinet meetings because she had attended demonstrations calling for his ouster, President Duterte revealed yesterday.
Duterte said he found it odd that Robredo would be facing him in Cabinet meetings after attending the rallies of "sore losers" who want him out of office.
"The problem is whenever they demonstrate, they would call for my ouster. The demonstrators from the Left would never demand (that). Wherever you go, they are for Duterte. They will never ever demand my (ouster). The yellows are the ones who want me out," the President said in Filipino in a CNN Philippines interview yesterday, referring to the color associated with the political opposition and the previous administration.
"These sore losers cannot accept defeat. She was with them and then the following day, we would face each other? Don't you think it's a very incongruous thing? Not really for anything. It's just incongruity," Duterte added.
Apparently, he was referring to demonstrations condemning his decision to allow the burial of former president Ferdinand Marcos at the Libingan ng mga Bayani in Taguig City.
"She was with the yellow. In our dialect, hielo refers to ice. That yellow has long melted. I saw (her) in their demonstrations and then after that, we see each other in Cabinet meetings?" Duterte told GMA News in another one-on-one interview.
Asked by CNN Philippines anchor Pinky Webb if he is considering giving Robedo another Cabinet post, Duterte said: "At this time, I am not considering."
He reiterated that he is ready to leave the presidency if not finishing his term would be his destiny.
He gave a stern warning though to officials plotting his ouster.
"Don't mess with me… Probably I'll give you a good fight. You'll have a bloody nose," the tough-talking President said.
Early this month, Robredo resigned as chairp of the Housing and Urban Development Coordinating Council after she was barred from attending Cabinet meetings.
She also claimed that plots to steal the vice presidency from her are now in motion.
Malacañang officials said Duterte excluded Robredo from the meeting because of "irreconcilable differences."
Presidential spokesman Ernesto Abella revealed in a previous press briefing that Duterte was "uncomfortable" with some of Robredo's "engagements with certain political actions."
Robredo has been a vocal critic of Duterte's decision to allow the burial of the late dictator Marcos, father of her political rival former senator Bongbong Marcos, at the Libingan ng mga Bayani.
Duterte maintained though that Marcos is qualified to be buried at the heroes' cemetery as a former president and war veteran.
'US plotting to oust me'
Duterte is convinced that the US, which has been critical of his bloody campaign against illegal drugs, is seeking to remove him from office.
The President noted that former US ambassador Philip Goldberg was expelled in Bolivia for supposedly trying to undermine its leader.
"In the matter of the credible news, kind of maybe, you may have some inkling of how this guy operates, because most of the ambassadors of the United States, but not all, are not really professional ambassadors," Duterte said.
"Iyong mga career (career officials) at the same time, they do spying. They are really connected with the CIA (Central Intelligence Agency). That's the way it is," he added.
Duterte claimed that the ambassador is the country's "number one spy" and that there are US ambassadors whose forte is to "undermine government."
"That's what happened with Bolivia. He (Goldberg) was expelled because he was undermining the native president there," the Chief Executive said.
"And Goldberg started to dig under, to erode the foundation of the presidency and he was expelled persona non grata."
Duterte admitted though that for now, he has no hard evidence to support his belief that the US is out to remove him from the presidency.
"We don't really have the wherewithals, the hard ones but going by the practice of America, It's not (about) me not liking America, it was about Americans who make so much of a fuss about a thing," he said, referring to his anti-narcotics campaign.
Duterte maintained that he has to honor his contract with Filipinos despite calls for him to resign.
"Perhaps God placed me here. So it's destiny. So if I get to survive six months and one day, that's part of my destiny. That is your presidency in this planet," he said.